EHS students organize and lead Daunte Wright memorial
TW: Mention of police brutality
On April 11, Daunte Wright, a 20-year-old African-American man, was killed during a traffic stop in the Minnesota suburb Brooklyn Center by police officer Kim Potter. Ten days later, on April 21, students gathered at the East Entrance of Eagan High School in memoriam of Daunte Wright and to protest police brutality. While many schools across Minnesota had student-organized walkouts on April 19, EHS did not have school that day, so organizers determined the 21st would be a better day for the demonstration to occur. 
Around 1:00 p.m., students gathered to shout chants, write and draw chalk messages on the pavement, hold moments of silence, and open the floor to anyone who wanted to speak. Among some of the speakers and organizing leaders were Kai Wilson, Lexi Karenget, and Michael Johnson. From poems to speeches to shouts for change, these student activists let their voices be heard in a multitude of ways. 
After speakers had passed around the megaphone, they led the student crowd in a march up the street around the South Entrance of Eagan High School and back down. Students chanted common protest sayings such as "Black lives they matter here," "Trans lives they matter here," "Native lives they matter here," "No Justice no peace," and "Say their name!" It's clear the group made some noise. By the end of the demonstration many staff members and teachers came outside the building to join and support the students, after just previously completing the day's anti-racist training. 
"I'm actually very pleasantly surprised with the outcome," speaker and memorial leader Kai Wilson shared. She commented that since last May, the amount of support the demonstrators have received has changed. "[It] definitely could be better, but I'm grateful that we've been able to do a lot and make a lot of change in the past year. It's something I never really thought would be possible in a year."
The change also goes beyond turnout at these events. "Everyone Is capable of learning even if it sometimes seems like they're not," Wilson shared. "I feel like people are definitely more open to being educated and held accountable now which I appreciate. I think these protests, memorials, sit ins, and rallies bring out the good in our school."
About the Writer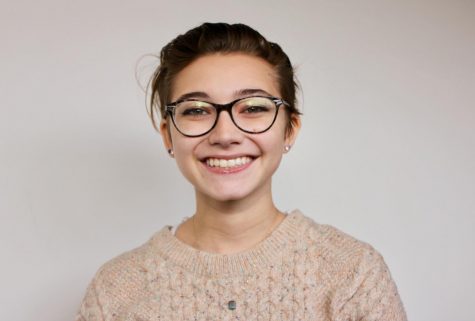 Tori Westenberg, News Editor
Senior Tori Westenberg loves giraffes and LGBT+ fiction. She wants to be a journalist when she's older, and if she could go anywhere in the world, she...