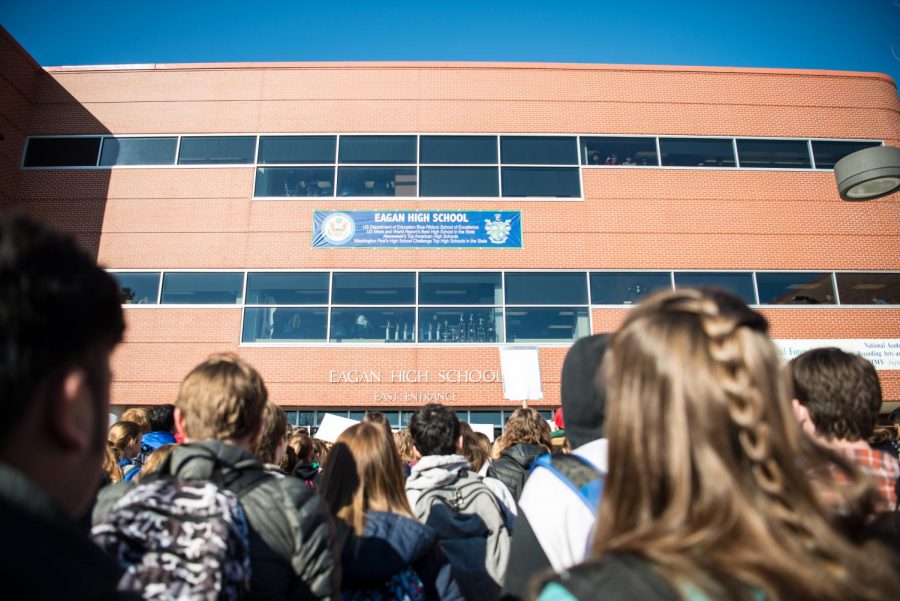 Eagan Participates in National Walkout
Last Wednesday, students all over America walked out of their classrooms at 10 a.m. to protest our country's lack of gun control. The walkout was initially inspired by the shooting that occurred at Marjory Stoneman Douglas High School in Parkland, Florida which left 17 students dead. The shooting appalled many students and staff, leading them to take action in support of gun control. The goal was for students to stand outside their schools for 17 minutes, one for each victim of the shooting in Florida. Speakers and activists also joined those participating to show their support. The walkout was organized by Women's March Youth Empower, which is an initiative that gets young people involved in social and political activism.
"
We felt a strong need to unify students, as well as empower them to take part in this fight against gun violence."
Many students at Eagan High School, beyond those who are in the club, took part in the walkout as well. Around 350 students and teachers walked out to the East Entrance on Wednesday. The walkout was organized by junior Macy Harder, sophomore Kali Benton, and seniors Miriam Lebowitz, Annika Scott, Emma Anderson, and Lizzy Sabel. They organized it after hearing about the movement that was happening in other parts of the country. "After hearing about the tragic shooting in Parkland, we knew that Eagan had to be involved," they explained. "We felt a strong need to unify students, as well as empower them to take part in this fight against gun violence." Students wore orange and carried signs that had sayings on them such as "Enough is enough."
The walkout featured speeches from Minnesota House Representative Laurie Halverson and gun violence survivor and activist Rebecca Fisher. Both speeches were inspiring and motivated students to continue their fight against gun violence. Halverson's speech touched on topics such as gun control and the importance of young people's involvement in politics. "It's nice to hear from someone in office that you're being heard," a student at the walkout responded. As for Fisher's speech, she retold a touching story about losing one of her friends to gun violence. "Ms. Fisher's speech was so powerful and emotional all at the same time," the organizers explained. They continued, "She is so brave for having the courage to speak in front of our school on Wednesday, and we are incredibly grateful that she did." Fisher also led the students in chants such as "Not one more" and "vote them out." After the speeches, the walkout organizers led the participants in a moment of silence to honor the 17 victims who lost their lives at the Parkland shooting.
The walkout was a moment of unity and solidarity among the students who chose to participate. It was also a great way to express opposition towards the current laws, but the fight doesn't stop there. There are many other ways in which students at Eagan High School can make a difference. "This past week, we had League of Women Voters come to EHS and hold a voter registration drive. We want seniors to know that if they care about this issue, they need to take their opinion to the polls and vote out those in office who refuse to make a change," the organizers explained. They also revealed that they had a few more plans for students to take action that are currently in the works. The students that participated in the EHS walkout were among those who made history.