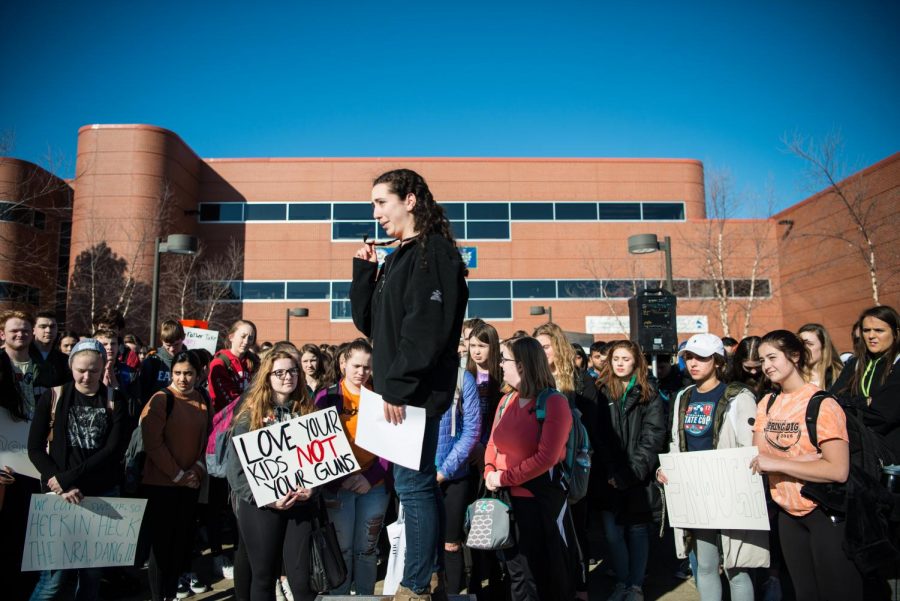 National Walkout: Eagan and Beyond
On Wednesday, numerous Eagan High School students joined millions of others around the country to honor the victims of school shootings in America and fight for stronger gun legislation. EHS teachers held the doors for students walking out of school, and many, including principal Dr. Polly Reikowski, were present. Unfortunately, this was not the case for many schools.
Eagan was lucky in that students were encouraged to use their voices and fight for their rights. The sad truth is that students at other schools received detentions and suspensions for doing the same.
Just twenty minutes away from Eagan, at Richfield High School, students who chose to participate in the walkout were blocked from returning to school afterward. According to RHS student and walkout planner, Amy Nguyen, this isn't the first time the administration has dealt poorly with similar issues. "We had a walkout last year after a shooting threat. They knew about [the threat] the night before and still kept us in the auditorium. They made us bait," recalls Nguyen. Students were warned of the lockout during an announcement the day before but chose to hold the walkout despite this. "When many of us walked out, some administrators told other students that they made 'the right choice,'" Nguyen notes.  She adds, however, that students who walked out were also shamed for participating. Nguyen explained that RHS students are tired of these administrative responses and are trying "to show that [they] need change […] for [themselves] and for future generations." The administration has stopped disturbing students now that the walkout is over, but Nguyen notes that these walkouts will become annual if they continue to be silenced by the administration.
"
This school has given us a lot of reasons to be angry over the years, and I'm sure it won't stop when I leave in a few months."
— Tyler Jenkins
Across the country, at Park Hill High School in Kansas City, Missouri and Mount Olive High School in Mount Olive, New Jersey, students faced similar realities. Park Hill student Tyler Jenkins noted how this wasn't shocking, as their administration always tends to be against the majority student opinion. "They locked the doors to the hallways back to class so we would be punished, and other administrators stood in the back blocking the doors to get out," he confides. On the contrary, Eagan doors were held open by teachers. Similarly, administrators at Mount Olive High School seemed to be supportive at the beginning, until they started restricting the rights of students, eventually telling students they couldn't go outside, and it couldn't be political, even giving them an itinerary to follow. As this happened, support for the walkout dwindled and students lost their motivation. "We all knew that it was merely a publicity stunt, and [administrators] did not care about how the students wanted to express themselves that day," Mount Olive student Lauren Heineman explained. In addition, students were threatened with "severe consequences" and even the withdrawal of both prom and graduation. Heineman added that the administrative blockation was so severe, "no one really officially walked out." She continued, "I know that a few students went out back doors and many more tried to get to the main exit, but police officers and staff members were physically blocking it."
Much to the schools' dismay, these administrative responses only pushed students more. Both Jenkins and Heineman are seniors, but their legacies will live on. "This school has given us a lot of reasons to be angry over the years, and I'm sure it won't stop when I leave in a few months," Jenkins notes. Heineman has already received overwhelming support, and many underclassmen have told her she is an inspiration.
Eagan students and staff members took part in an inspiring event all over the country on Wednesday, but that's not to say some schools didn't have to push harder than others to do so. Either way, we all have one thing in common.
We are all fighting for change.