Eagan Speech Team Kicks Off Season at Glenbrooks
Many students start their weekend off with a much needed morning sleeping in, but for members of the Eagan speech team, the alarm goes off at 5 a.m. and there's no time to dawdle. Team members need to be on their bus by 6 a.m. and be ready to compete with their practiced performances by 7 a.m.
"
In traveling meets, the competition is high and it can get very intense."
— Ms. Anker
On  November 17th-20th Eagan High School's traveling speech team competed at Glenbrooks High School in Chicago, Illinois for a tough round of competitions. They endured a six hour bus ride in which they used the time to prepare for the meet. According to Aaron Lutz, senior at Eagan and in Exemporaneous Speaking, to start off the day, speech meets have four categories and are split into three rounds. They compete in their rounds, and soon after, the next few categories get posted, until four preliminary rounds are left and team members have advanced as far as they are able. Then you see who has moved on to the final rounds. Afterwards is the results and awards ceremony for the whole competition.
Ms. Anker, who has been involved in public speaking and coaching for over 40 years, reveals that, "In traveling meets, the competition is high and it can get very intense." Lutz admits the hardest part of speech meets is the early wake up call of 5 a.m. "The whole day can be very  tiring," he said.
Despite the early start and  the stress of competition, there's a lot of excitement and team bonding that occurs during the speech meets. Josh Drucker, a senior in Duo, lists some highlights as rooming with friends, the bus ride, and the competition. Emily Albert-Stauning, a senior in Dramatic Interpretation, states that her favorite part was finding out who made finals. Drucker explains that, on the bus, the team helps each other practice their speeches as well as help each other deal with stress.
Ms. Anker declares her favorite part of speech competitions is all the excitement leading up to finding out who advanced. The team did not disappoint as six members of the Eagan High speech team advanced to the semifinal round. Junior Claire Nelson advanced to finals. The traveling speech teams next big tournament is the Sunvitational in Florida on January 13 and 14, while the next event for the entire team is the Chanhassen Tournament, January 20th. At the end of a long day, the team finds that their hard work pays off and they can celebrate their well deserved victory. 
Leave a Comment
About the Contributor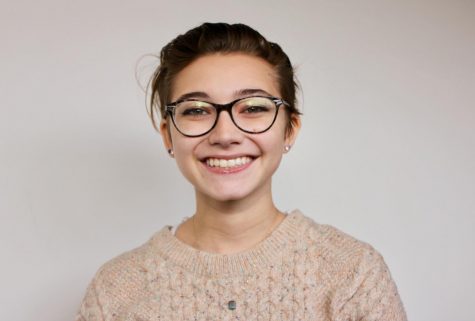 Tori Westenberg, News Editor
Senior Tori Westenberg loves giraffes and LGBT+ fiction. She wants to be a journalist when she's older, and if she could go anywhere in the world, she...