'She Kills Monsters,' brings home state title
After being the section runner up for the past two years, the cast of this year's One Act Play, She Kills Monsters, made it to the Minnesota State High School League One-Act Festival on Friday, February 8. This feat was truly remarkable, especially considering that ten out of the thirteen cast members hadn't performed in a show at Eagan before.
Not only did they win sections, the cast of She Kills Monsters also earned a Starred Performance from the judges at the festival, which is the highest recognition. "So it's kind of like we're state champions," explained Mrs. Owzarek, who has been working with the One Act for fifteen years.
Judges at the festival look for everything from physical and vocal characterization, to technical elements, to a story that holds together under 35 minutes in order to give a Starred Performance.
She Kills Monsters follows the story of Agnes, whose geeky sister, Tilly, dies without Agnes knowing much about her. Agnes then finds Tilly's Dungeons and Dragons notebook and jumps inside a game Tilly had created. She meets Tilly's character in the game, and slowly begins to grow closer to her. Agnes discovers things about her sister that she never know, such as her struggle with her sexual identity. Besides getting to know her sister through the game, Agnes goes through some changes with herself, becoming braver and more accepting of Tilly.
"The best part about getting to play Tilly is being able to explore and bring alive a character that is so much like me but also so different," said actress Neha Nayak, who played Tilly in the show. "Tilly is kind of geeky, and I always have been, but it's definitely a side of me that's much more private. Since playing the role, I definitely am more open about some of those interests."
Nayak has been acting since the sixth grade, but other cast members didn't have as much experience. Actors such as Joey Galles, who played the great mage Steve, and Kai Wilson, who played Lilith/Lily, made their first high school acting debut, both approached by Mrs. Owzarek about the opportunity.
Owzarek chooses the play for the One Act with careful consideration. "Every year I try to find a cool script for the One Act play and I read a lot of different scripts," she said. Owzarek takes into account which actors are interested in auditioning. "I knew that my strongest actors were female," she said. "I also chose it because I went to see a production of it at Hamline University, and I was amazed at all the technical aspects of their show."
Owzarek, also considering time and money, made arrangements to rent the costumes from Hamline University. "One of my former students who graduated in 2016, Jackson Cobb, designed all the projections for Hamline's production, and he was interested in working with me on a one-act version of the play."
The biggest struggle, according to Mrs. Owzarek, was when actors were ill or injured. "There was a lot of sickness in our cast and our crew," she said. "I had a student with pneumonia, a student with influenza, and a student with a terrible virus." Owzarek also said there was also a student with physical injuries, so they had to be careful so he didn't get hurt from the stage combat.
"Because there was so much stage combat, the actors had a lot of bruises and bangs." Owzarek said. The combat choreography, while a challenge, was also a highlight. "My favorite part of the play is the stage combat," Wilson said. "I got to use this big battle ax in all the fights, and it looks really cool."
The most amazing thing about this year's production is that there were so many new actors. Those who had never acted before carried the cast to a Starred Performance. "I just want people," says Neha, "who don't normally do shows or are considering auditioning for a show to know that it is so worth it."
About the Writer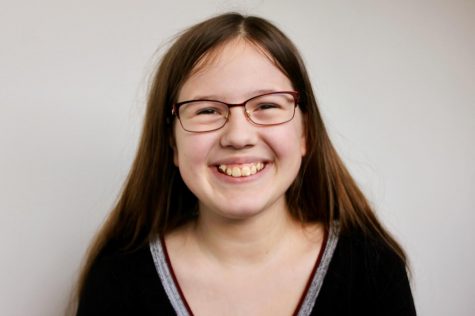 Dani Fraher, News Writer
Danielle Fraher is a junior and a news writer. She's an avid reader, writer, and theatre fan. Dani wants to be a foreign correspondent when she's older,...