Silent Sky: Cast Interview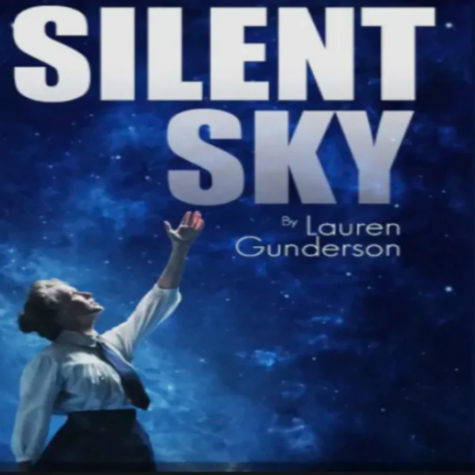 The final showings of Eagan High School's winter play Silent Sky are upon us, and many are excited to see the play. Silent Sky (written by Lauren Gunderson) is a humorous drama that tells the true story of Henrietta Leavitt, an astronomer trying to make an impact on the field of astronomy. To get an idea how the actors feel about the production thus far and how they feel about their next performances, I interviewed some of the members of the cast, including Jada Lapastora, Logan Ahl, and Alexandra Fierst.
1. Who do you play as in the play? Can you describe your character?
Jada: I play Henrietta Leavitt who was a real woman and an astronomer who did not receive enough credit for her part in discovering the vastness of the universe. She was a badass woman in STEM who didn't listen to the stereotypes society placed on her and paved her own path to follow her passion.
Logan: I play Dr. Peter Shaw, a very arrogant and snooty guy. He serves to be the showing of the times in a sense, when in actuality the real Peter is kinda awkward, clumsy, and a little all over the place. He's also very prone to emotion.
Alexandra: I play Williamina Fleming, she is a sassy Scottish scientist. She gets a lot of fun comedic parts, mostly poking fun at her supervisor Peter Shaw. She also gets to show emotional depth since she cares deeply for her fellow female scientists, primarily Henrietta Leavitt. Historically, Williamina Fleming found the horsehead nebula and the first white dwarf star.
2. What aspects do you enjoy about the play?
Jada: I really enjoyed learning what goes into putting a production on stage, especially with a small cast and a black box theater where the audience is literally two feet away from you. I loved getting to know my fellow cast mates who are such talented people as well as the tech crew who bring the magic from behind the scenes. Not to mention getting into character with the amazing costumes and hair from the talented costume and wig masters. Together they bring the show to life.
Logan: I personally always love being able to put on a performance for others. I really enjoy seeing the audience reactions to scenes, hearing the laughter or feeling the different emotions coming through. I also very much enjoy playing Peter. It gives me the opportunity to play a character who is whole heartily on 2 ends of the scale when it comes to personality.
Alexandra: I enjoy the humor, I love the period piece costumes, as well as the fact that these are historical and inspirational women. It's a black box theater so the audience is on stage with the actors making it all the more close and intimate though a little daunting. The cast is small so you get close and tight knit, you get to know and care for everyone involved, actors, tech, costumes everyone's wonderful.
3. Has there been any struggles that coming with being apart of the play?
Jada: Learning lines was especially challenging since there were so many and learning how to say lines in character was difficult since Henrietta is a very different person from myself. I also had to learn how to adjust to a heavy wig and walk around in heels anda skirt which was a process.
Logan: One of the biggest struggles has been the timing of it all, we had roughly a month to be completely memorized with movements and prop placements. Take into account we met only 5 days a week, not guaranteed, it really was a race against time.
Alexandra: Time management with homework and sleep and other extracurricular activities. I had to wake up at 4 in the morning for every performance and dress rehearsal to style my hair in a Gibson girl. As well as working out a believable Scottish accent (I watched way too much BBC and had the opportunity to work with a dialect coach).
4. How do you feel opening night went, and how do you feel about the next showings?
Jada: Opening night was an interesting experience. This was the second theater production I've ever done, so acting in front of an audience for the first time, especially with them being so close, was extremely daunting and nerve racking at first, but eventually you got that intimate experience with the audience where I really felt as though the audience and I were experiencing the story together. I'm excited and nervous about the next showings especially with more people coming (hopefully), but I hope they enjoy the show, appreciate the blood sweat and tears that went into creating it, and learn something new or just leave the theater feeling happier than when they walked in.
Logan: I think opening night went really well! I at least have only heard positive things about the play so I feel the next shows will go well. I have trust in my fellow stage members and I'm expecting us to kill it!
Alexandra: Opening night went really well, we had a very energized crowd, I felt like people responded positively to my humor and my character. We managed the technical aspects quite well since we have an amazing tech team.  I feel hopeful for the upcoming performances though a little excited and anxious.
If your interested in seeing Silent Sky, you can catch their final showing on February 26th, at 7:00 P.M. Click here to buy tickets!