Ed Sheeran is a British musician, most formally known by all; if you don't, please get some help. Sheeran is an incredible performer from London, England. This being my fourth time seeing him in concert, he never ceases to amaze me. Performing by himself with his guitar, and loop pedal, he has a very gifted talent that is, in my opinion, underrated.
Rudimental was Sheeran's opening band. Also originating from London, the band consists of four main male members, though because they were the opening act, several other people (ie female backup singers, keyboards, etc) performed with them onstage. Their music ranges from jungle, to liquid funk, to drums and base. And when I say bass, I really mean that you could feel the bass running through every inch of your body. Shaking the air around the arena, Rudimental's sound was loud and full of energy. They moved around the entire stage and included the audience in almost every song they sang. Though I doubt many people had heard their songs before, people were singing along to the catchy music. The best part was that they had a trumpet player who ran licks faster and better than anyone I have ever seen. They were a had a very unique sound and were the perfect act for Sheeran.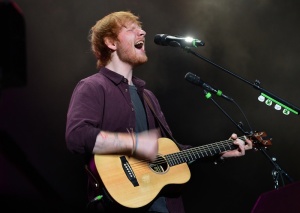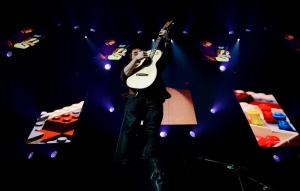 Without any introduction, Ed stepped on the stage and immediately started singing "I'm a Mess". Just him, his guitar, and loop pedal, he performed one heck of a show. He had a balanced mix of new, as well as old material, often switching back and forth. For the shows leading up to the Minneapolis date, he kept the same set list. For us, he changed three of the songs adding in one of my favorites, "Kiss Me". He involved the audience during several of his songs, making us his personal choir for the night. Chanting back what he sang for us, it was incredible to see so many people truly get into Ed's music and lyrics. And me, being the crybaby that I am, I was often shedding tears from the beauty of witnessing it live. He ended with another one of my favorites, "I See Fire" (from The Hobbit: Desolation of Smaug), and played with clips of the movie shown on the twelve rectangular screens behind him. The cheers never subsided, as Sheeran left and then came back onstage for a three-song encore. Two were from his first album,"You Need Me, I Don't Need You" and "The A Team", and "Sing" from his sophomore album. All three encore songs lasted nearly thirty minutes. And finally, having the audience sing the chorus, Sheeran left the stage. We kept singing all the way out the doors.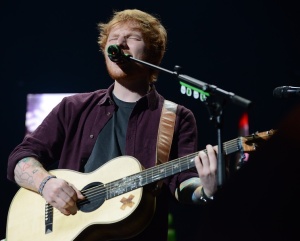 My personal review was that the concert was another fantastic showing of Ed Sheeran's gifted talent. Of course, I may be a little bias because he's one of my favorite musicians, but it's with very good reason. Sheeran connected well with his audience, which is very important for artists to do in order to receive good feedback and reviews. His music is unique and real. He has powerful lyrics that most people can relate to in some way. He is true to who he is and it's obviously portrayed. Though I personally prefer the smaller venue concerts, like his first performance I saw in 2012, he still made a lasting impression. And his music I am forever thankful for.