Stromae Concert Review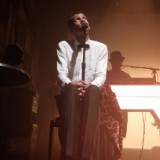 Stromae is known for having a lot of songs that differ from the norm. Most hip-hop, rap, and electronic songs go along with common themes: drugs, sex, alcohol, and parties. Spacing himself from these predictable songs, Stromae sings more about social issues, lost lives, and forgotten loves. It may sound cheesy, but Stromae shares a wealth of knowledge that other singers can't seem to produce in quite the same way. Caroline van Vliet, a senior who attended the concert stated why she admired him the most. "What's really cool is that he raps about serious issues. Families, relationships, consumerism, racism. He cares about real problems he sees in the world, and the fact that he's popular enough to bring awareness and change makes it all the more admirable." Stromae is still fairly young, at only 29 years old. He's gotten so popular that there have been websites set up in which one can purchase his oddball clothing articles; a majority of it being brightly colored vests and socks.
Originally from Belgium, Stromae has popped up in a variety of households all over the world, including our very own President Obama's.
"The prime minister in Belgium gave our album to Barack Obama. I was really surprised that he decided to give a CD of us. Is he into music? I'm not sure if he has the time to listen to this". Although Stromae may seem pretentious to some for being the new hit in Europe, he seems to like it better when things are calm. "It's really quiet. And maybe that's why I love Brussels. Because it's a boring city, and I'm proud of this city because it's boring."
Last Thursday on the 25th of September, Minnesota welcomed Stromae, an exceptional French singer and musician into the "Land of Ten Thousand Lakes". Although extremely popular in France, many Americans and other fellow English speakers do not know who he is. Picture Stromae as the Jay Z of France; not the same musically, but popularity wise.
The tickets in the United States tour were only about $30 but in France they ran about $200. He sang for hundreds of fans in The Myth Club last week, and has 42 shows total planned in the US. He even has both American and French groupies that are following him during the entire US tour. After the shows he comes out and takes photos with every single fan still standing in line, never turning anyone away. Many French classes from different schools went to see Stromae, including one from Eagan High School. Madame Albertson also went, and was excited to see her friends and family enjoy French outside of the classroom. "As much as I loved Stromae's amazing concert – I loved my kids loving it even more."