Eagan Student Runs Twin Cities Marathon
First-time marathoner senior Garrett O'Keefe ran the Medtronic Twin Cities Marathon this past Sunday, October 5
Every fall, Minnesota hosts the Medtronic Twin Cities Marathon for runners from all over the world. This year's race was on Sunday, October 5th, and Eagan High School's very own senior, Garrett O'Keefe was one of the limited 12,200 participants to run the 2014 marathon.
Starting near the old Metrodome location, the course wound itself around St. Paul and finished next to the Capitol building. The course was open to professional runners, competitive athletes, and first-time marathoners alike. This being O'Keefe's first marathon, he was both nervous and excited. When asked how long he trained his said, "about a month and a half, though I should have done the typical plan of 4 months".
The day before the race, I bumped into Garrett and his older sister while shopping. They were picking out clothes for him to layer on before the race, and then later take off and toss to the side when he got hot. "I had a stripping party three minutes before [the race] started," he stated while laughing. Recalling that moment he said " I was on the right side of the course, so when people were tossing their clothes to the side, I would get smacked with them".
"
I finished! That's what matters to me!"
— Garrett O'Keefe
"My whole last half of the marathon was a struggle," O' Keefe recalled, "I lost my pace group and my legs started cramping. Every mile or so I would stop to stretch out." So was the marathon really worth it? "I finished! That's what matters to me!" he exclaimed. And it felt "victorious".
Of course his family, friends, and neighbors were there to cheer him on (later that day his mom bought him Ben & Jerry's ice cream). The girls cross country team also helped run a water stand at the mile two marker. O'Keefe wasn't the only Eagan persons there, as Mr. Carlson also ran the marathon. Ms. Fair and Michael Jaeb participated in the 10 mile run that morning, too. Ms. Fair, "ran back to the marathon to catch [O'Keefe and Carlson] run" the course.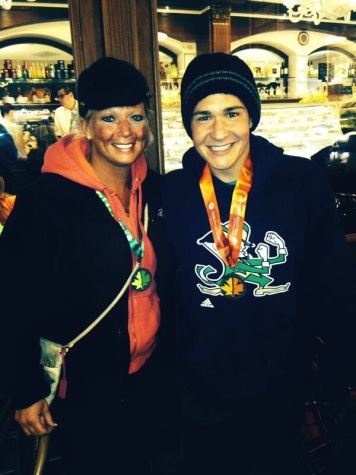 On Monday, though with a little bit of a limp in his step, O'Keefe wore his marathon gear-shirt, sweatshirt, socks, and medal- to school with pride. A round of applause to all the runners that day, and a special congratulations to the Eagan participants on a great run this past weekend.
For more information about the Medtronic Twin Cities Marathon you can reach their website by clicking the colored text.