Transformation Tuesday
Can You Guess This Week's "Nerdfighter"?
Abby Cecka, Features Writer
October 21, 2014|102 Views
Twenty Questions with….
1.) What did you want to be when you were little?
A chef, an astronaut, or a swimmer.
2.) What is your favorite restaurant, and what is your favorite thing to order there?
The Free House. I would get a horseradish steak with cheese perogies.
3.) What is your favorite season and why?
Fall. I love watching the leaves change color, I love the weather, and I think the
sky is more blue, plus all of my favorite clothes are for fall.
4.) What chore do you dislike the most?
I really dislike cleaning my room.
5.) What is your favorite Halloween candy?
A Hershey's bar, especially Cookies and Cream flavor.
6.) If you could be anyone or anything for a day, who or what would you be?
Either Robin Hood or a dolphin.
7.) Who is your favorite singer or band?
The Goo Goo Dolls and Imagine Dragons.
8.) Who is your favorite EHS teacher?
Madame Albertson.
9.) What is your favorite subject in school?
French or Civics.
10.) If you could vacation anywhere, where would you want to go?
Paris.
11.) What is your favorite movie?
Harry Potter, or the Princess Bride.
12.) What is your favorite song?
Yellow by The Goo Goo Dolls.
13.) What is one thing that you want to do at least once in your life?
Meet John and Hank Green.
14.) In your opinion, what is the most interesting pet to have?
A giant sting ray, (If it can be a fantasy pet, then one that swims in the air too)
15.) If you had to describe yourself in one word, what would it be?
Nerdfighter.
16.) What is one interesting thing that most people don't know about you?
I am proficient at crocheting, and I make crocheted stuffed animals.
17.) What is your biggest pet peeve?
Grammatical errors and imprecision.
18.) Who is your all-time favorite movie character?
Peregrin Took, from The Lord of the Rings.
19.) What is the best part of high school so far?
Quiz Bowl and getting to carry a backpack with me.
20.) If you had to be handcuffed to anyone for a day, who would it be?
Mary Vander Hoeven. I would pick someone more interesting, but the bathroom situation would be a little awkward…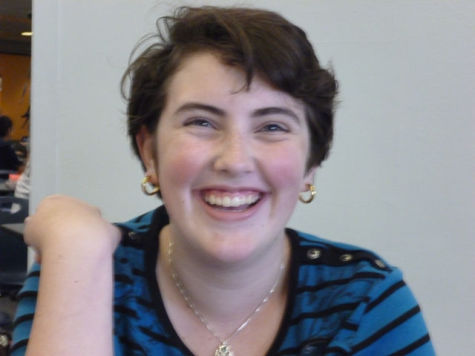 This week's Transformation Tuesday was with freshman Maddie Sandish!