Halloween Treats So Good They're Scary!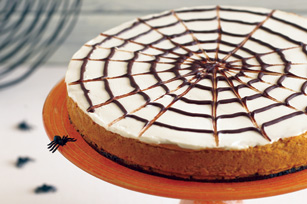 Abby Cecka, Features Writer
October 28, 2014|243 Views
Spider Web Pumpkin Cheesecake
16 Servings
What You Need:
18 OREO Cookies, finely crushed (about 1-1/2 cups)
2 Tbsp. butter or margarine, melted
3 pkg. (8 oz. each) PHILADELPHIA Cream Cheese, softened
3/4 cup sugar
1 can (15 oz.) pumpkin
1 Tbsp. pumpkin pie spice
3 eggs
1 cup BREAKSTONE'S or KNUDSEN sour cream
1 oz. BAKER'S Semi-Sweet Chocolate
1 tsp. butter or margarine
Directions:
Heat oven to 350°F.
Mix cookie crumbs and melted butter; press onto bottom of 9-inch springform pan.
Beat cream cheese and sugar in large bowl with mixer until blended. Add pumpkin and spice; mix well. Add eggs, 1 at a time, mixing on low speed after each just until blended. Pour over crust.
Bake 50 to 55 minutes or until center is almost set; cool slightly. Carefully spread sour cream over top of cheesecake. Run knife around rim of pan to loosen cake; cool before removing rim.
Microwave chocolate and 1 tsp. butter in microwaveable bowl on MEDIUM (50%)  for 30 seconds; stir until chocolate is completely melted. Drizzle over cheesecake in spiral pattern. Starting at center of cheesecake, pull toothpick through lines from center of cheesecake to outside edge to resemble a spider's web. Refrigerate 4 hours.
Recipe courtesy of Kraft Foods
Candy Corn RICE KRISPIES TREATS® on a Stick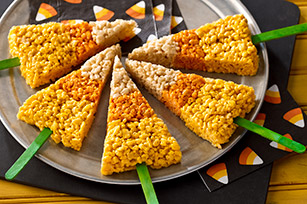 What You Need:
3 Tbsp. butter or margarine
1 pkg. (10 oz.) JET-PUFFED Marshmallows
6 cups KELLOGG'S RICE KRISPIES cereal
4 drops red food coloring
24 drops yellow food coloring, divided
Directions:
Microwave butter in large microwaveable bowl on HIGH for 45 seconds or until melted. Add marshmallows; toss to coat. Microwave 1-1/2 minutes or until marshmallows are completely melted and mixture is well blended, stirring after 45 seconds Add cereal; mix well.
Pat 1 cup cereal mixture into 3-1/2-inch circle on center of large cutting board sprayed with cooking spray. Add red food coloring and twelve drops of yellow food coloring to the 2 cups of remaining cereal mixture; mix well. Tint remaining cereal with remaining yellow coloring.
Pat orange-colored cereal mixture into 1-1/2-inch wide ring around cereal mixture on cutting board. Repeat with yellow-colored cereal mixture. Cool completely.
Cut cereal mixture into 12 wedges. Insert wooden popstick into rounded end of each wedge.
Recipe courtesy of Kraft Foods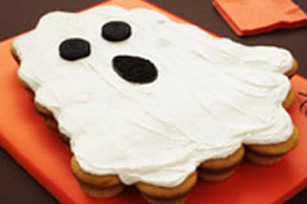 Ghost "Cake"
24 Servings
What You Need:
1 pkg. (2-layer size) yellow cake mix
1 pkg. (4-serving size) JELL-O Vanilla Flavor Instant Pudding
1pkg. (8 oz.) PHILADELPHIA Cream Cheese, softened
1/4 cup (1/2 stick) butter, softened
1 tsp. vanilla
1 pkg. (16 oz.) powdered sugar, sifted (4 to 4-1/2 cups)
Black decorating gel
5 OREO cookies, divided
Directions:
Prepare cake batter as directed on package. Add dry pudding mix; mix well. Spoon evenly into 24 paper-lined medium muffin cups. Bale as directed on package for cupcakes. Remove to wire racks; cool completely.
Beat cream cheese, butter and vanilla in medium bowl with electric mixer on medium speed until well blended. Gradually add sugar, beating well after each addition.
Arrange cupcakes on large serving platter or tray to resemble a ghost. Spread with frosting. Use decorating gel to outline the mouth on the cupcakes. Finely crush three of the cookies; sprinkle inside mouth. Place 2 remaining cookies in cupcakes to resemble eyes. Store in refrigerator.
Recipe courtesy of Kraft Foods