Thanksgiving Recipes You'll Be Grateful For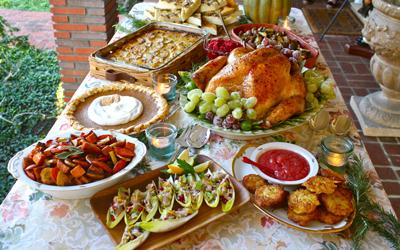 Thanksgiving is a time for friends, family, and giving thanks to those who deserve it, but most importantly, Thanksgiving is about the food. People often associate Thanksgiving with the long hours spent in the kitchen slaving over a hot stove, but it doesn't have to be. Here are a few easy recipes to bring your Thanksgiving feasts to your table faster than ever.
Easy Thanksgiving Turkey
What You'll Need:
-1 10-12 lbs. turkey
-Onions
-Carrots
-Apples
-Fresh thyme and bay leaves
-½ cup of melted butter
Directions:
Preheat the oven to 325° F. Pull the neck and giblets out; discard the liver and giblets. Dry the turkey with paper towels, then season inside and out with salt and pepper. Fill the turkey with aromatics like chopped onions, carrots, apples and herbs, then place breast-side up in a roasting pan and brush with melted butter. Tent with foil and roast for 2 hours (add an extra 15 minutes for large birds). Remove the foil, baste with more melted butter and change the temperature to 425° F. Roast for another hour or until the meat at the thigh registers 165 degrees F. Let rest while you make the gravy.
Gravy
What You'll Need:
-5 cups of turkey stock with pan drippings
-1 can of condensed cream of chicken soup
-1 teaspoon of poultry seasoning
-½ teaspoon of black pepper
-1 teaspoon of salt
-¼ teaspoon of garlic powder
-1 cup of milk
-⅓ cup of all-purpose flour
Directions:
Bring the turkey stock to a boil in a large saucepan. Stir in soup, poultry seasoning, pepper, seasoned salt, and garlic powder. Reduce heat to low, and let simmer.
Warm the milk in the microwave, whisk in flour with a fork until there are no lumps. Return the gravy to a boil, and gradually stir in the milk mixture. Continue to cook, continuously stirring, until thickened. Be careful not to let the bottom scorch.
Last Minute Mashed Potatoes
What You'll Need:
-1 scrubbed potato
-¼ cup of half and half
-1 tablespoon of melted butter
– Kosher salt
-Black ground pepper
Directions:
Pierce the potato all around with a paring knife, microwave on high for about seven minutes, then set it aside. Put the half and half in a bowl and cover with plastic wrap. Microwave on high for 45 seconds. Cut the potato in half, lengthwise, (be sure to be careful, potato may still be hot), scoop out the insides with a spoon into the half and half. Add butter then use fork to mash the potato. Once mushy, sprinkle on salt and pepper to your liking.
Cranberry Sauce
What You'll Need:
-12 ounces of Cranberries
-1 cup of white sugar
-1 cup of orange juice
Directions:
In a saucepan, dissolve the sugar into the orange juice over a medium heat. Slowly stir in cranberries and cook until the cranberries start to pop. Remove the pan from heat then empty the mixture into a bowl, the sauce will start to thicken as it cools.
Creamed Corn
What You'll Need:
-2 packages of thawed frozen corn
-1 cup of heavy cream
-1 teaspoon of salt
-2 tablespoons of granulated sugar
-2 tablespoons of butter
-1 cup of whole milk
-2 tablespoons of all-purpose flour
-¼ teaspoon of freshly ground black pepper
-¼ cup of freshly grated parmesan cheese
Directions:
In a skillet, over a medium heat, mix together the corn, cream, salt, sugar, pepper and butter. Whisk the milk and flour then combine it with the mixture. Continue stirring until mixture has thickened, and corn is completely cooked through. Remove from heat and then mix in parmesan cheese and wait for it to melt.
Meyer Lemon Pie
What You'll Need:
-1 ¼ cups of white sugar
-3 large eggs
-3 ¾ fluid ounces of Meyer's Lemon Juice
-¼ cup of melted butter
-1 (9 inch) pastry shell, unbaked
Directions:
Preheat oven to 350° F. Place sugar, eggs and lemon juice in a blender, blend for three minutes. Pour melted butter into blender, blend for thirty more seconds. Transfer filling into pastry shell. Bake pie for 30-35 minutes, wait for it to cool for 15 minutes after.
Pumpkin Pie
What You'll Need:
-2 eggs
-1 (16 ounce can) of pumpkin puree
-1 (14 ounce can) of sweetened condensed milk
-1 teaspoon of pumpkin pie spice
-1 (9 inch) unbaked pie shell
Directions:
Preheat oven to 425° F. Combine eggs, pumpkin puree, sweetened condensed milk and pumpkin pie spice into large bowl and mix until completely combined. Fill mixture into the unbaked pie shell. Bake in oven for fifteen minutes, then take it out, lower the temperature to 350° F and bake for another 30-45 minutes.