Review: DoorDash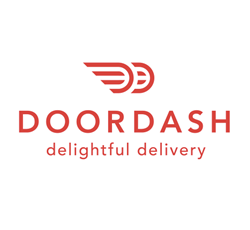 The 21st century has furthered itself beyond ordering takeout from the local pizza place. Now you can get Taco Bell, Perkins, Noodles & Company and many other great choices delivered right to your door, with services like DoorDash and GrubHub. These amazing companies give you a wide selection of the nearest restaurants. Then, once you choose the restaurant they give you the menu and you click on what you want, with the calculation of the prices–they also include the tip. After you put in the order they give you the name of the driver and what the time they will come to your door.
I ordered from DoorDash and the process was quite easy. I just had to set up an account and then find the food I was in the mood for. I chose chinese food, the expected time for the drop off was about 40 minutes. They sent me a text to tell me that they picked up the food and were on their way. They also texted me when they were in the driveway. The delivery was about 10 minutes early, which also spoke volumes about their service. My delivery man was a really nice guy and even put in the plates, chopsticks, silverware, and some napkins. I really appreciated that. The food was really good, and came in nice and hot.
Overall, I really enjoyed participating more in the 21st century-style takeout. The ideas behind DoorDash and GrubHub are amazing, and I love the idea that I can get Taco Bell delivered to my door. In a few easy steps of just clicking and paying, my dinner was on its way. The people are really nice and look out for what you want.