March for Science: A Day in the Life
On Earth Day last week, tens of thousands of people, spanning six continents, gathered in over 600 cities all over the world. I was one of them. For what cause? Science.  
In the three months following the largest political demonstration in US history, the Women's March, US citizens have found no shortage of things to protest. Since Donald Trump's inauguration, there have been worldwide marches calling attention to issues with his overall presidency, his immigration ban, tax policies, and most recently, his attitude towards scientific research and climate change. This renewed political activism isn't dying anytime soon, so there will be plenty of future opportunities to attend marches— whether in Minneapolis or Washington D.C.— and it's important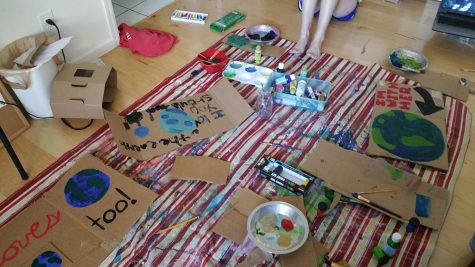 to know what to expect if you go. Here's what my day looked like:
8:00 – I woke up, opened the windows, and ate breakfast.  Earth must've known we were celebrating her— by the time we got outside, the temperature was hovering around 65 degrees and the sun was shining.
8:30 – I showered and got dressed in sandals, jeans, a tee with a map of the Boundary Waters on it, and a baseball cap.
9:30 – My friend Kendra arrived! We went down to my room and, using a dull X-acto knife (I wouldn't recommend; it was a long and painful process), disassembled some extra cardboard boxes from my garage and painted them with our slogans.
10:00 – My seven year old sister, who loves crafts, and my dad, who was coming to the march, came down to paint signs with us.  
10:30* – We drove to St. Paul, spotting lots of marchers on the sidewalk as we got closer. We parked in the Science Museum parking garage to avoid traffic, and walked about ten minutes to Cathedral Hill Park, the starting point.  
11:15 – After arriving at the park, which was packed with people holding colorful signs, Kendra and I ran inside the St. Paul Cathedral (they were in the middle of a service!) for a quick bathroom break.  When we got back outside, people had begun to move in the direction of the Capitol Building (about a half mile away). We walked with our signs propped on our heads so those behind us could read them, and the whole group moved at a pretty slow pace, looking at the surrounding signs and taking pictures.
11:40 – We arrived at the Capitol Building, where crowds were gathered on the steps and the grassy area below. We secured a spot near the front, and stretched out on the grass to listen. We were led in a few chants, and then heard from several speakers. These included a handful of young kids who shared their thoughts on why science is important, as well as Mark Seeley, the climatologist for Minnesota Public Radio; Alan Lifson, a professor of epidemiology (the study of disease) at the University of Minnesota; and US Representative Betty McCollum.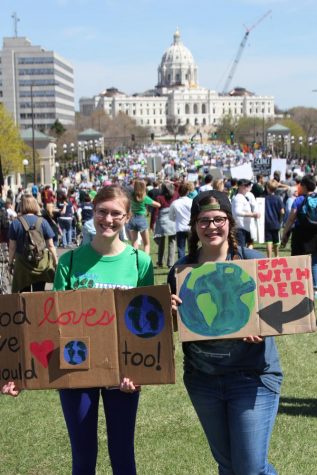 12:45 – The rally came to an end.  The atmosphere was overwhelmingly positive— one of unity and hope— as we all parted ways.  People smiled and chatted, and took pictures of signs they liked. Kendra and I posed for quite a few photos ourselves! As we walked back to the science museum with a group of other marches, a handful of cars honked and waved as they passed us. I couldn't stop smiling.  
1:45 – We returned home, where Kendra and I celebrated Earth Day a little more by hiking and making flower crowns with a few friends. It was a good day.
Marches are a great way to show your support for a cause, and over the course of history, they've led to monumental changes. Over 10,000 people showed up for St. Paul's March for Science alone!
Here's a link to a list of upcoming political events in Minnesota:
http://www.takeactionminnesota.org/events/
*On the march website, it suggested arriving at 10:30, but we were running late!