New Restaurants Widen Options
This summer, Eagan welcomed several new restaurants, with several more opening in the near future. Here are the restaurants you don't want to miss.
Punch Pizza: The wait is finally over. Punch Pizza opened its doors this past month, and we couldn't be more excited. It's located in the recently built Central Park Commons off the intersection of Yankee Doodle and Pilot Knob Road. Punch Pizza is known for baking pizza in a wood-burning oven, the way it is made in Italy. Like any other of their ten locations, Punch will offer "build-your-own" pizza, salads, and Izzy's ice-cream. For any interested students, Punch Pizza is still hiring, and applications can be found on their website. "I think it'll be a good spot to hang out at. Plus, from what I've heard, the food is pretty good too," explains senior Chloe Liew.
Piada: Italian restaurant Piada also opened in the Central Park Commons on May 16th. Inspired by the street food of Emilia-Romagna, a region in Italy, Piada focuses on serving authentic Italian cuisine. This restaurant serves a variety of Italian foods, ranging from salads to pasta to street food. Piada may serve as a good option for dinner before the homecoming dance on October 14th. There is also a location in the new Mall of America food court.
Chick-fil-A: Chick-fil-A will open in 2018. Back in 2014, there were plans to open a Chick-fil-A in Eagan, but the deal fell through. Fortunately, it seems as though Chick-fil-A has finally found a home on Promenade Avenue across from the Town Center. There are only 12 branches open in Minnesota, so Eagan residents will no longer have to look far for Chick-fil-A's famous waffle fries.
Naf Naf Grill: Joining Punch Pizza and Piada in the Central Park Commons is Naf Naf Grill. This restaurant serves Middle-Eastern food like shawarma, falafel, and pita bread. Also located in the Mall of America and on the University of Minnesota Twin Cities campus, Naf Naf Grill has spread throughout the Twin Cities area. Because of its opening, Eagan is getting the opportunity to taste cuisine from all over the world.
Dunkin' Donuts/Baskin Robbins: After an almost ten-year absence from Minnesota, Dunkin' Donuts and Baskin Robbins will open off of Yankee Doodle Road, overlooking the Central Park Commons. The Eagan City Council has approved of the development, but it could be a year before it opens. The joint bakery and ice cream store will have a drive-thru for customers to enjoy a quick treat. This would be the first location of 15 to open in the Twin Cities area. There's no doubt that Eagan students will enjoy some fresh donuts from Dunkin' Donuts on Fridays for PAWS treats. Senior Nibraas Khan comments, "I didn't know about this shop's opening, so I'm pretty excited."
About the Writer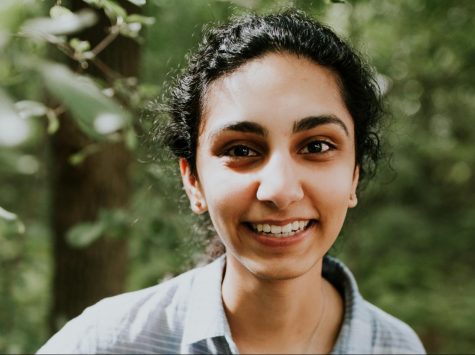 Mariam Tahir, News Editor
Senior Mariam Tahir speaks three languages and loves Thai food. After she graduates college, she plans to pursue a career in business and visit Morocco.