Registration Open for SSI!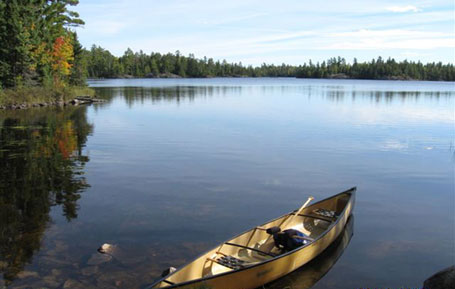 Calling all Eagan High School students! Are you interested in science? Do you like going outside? Do you want to get off the couch, out of the house, and into an amazing outdoor experience? If you said yes to any of these questions, SSI is for you. What exactly is SSI? To start, SSI stands for Summer Science Institute. It's a program that introduces all types of students to the great outdoors, where students have the opportunity to camp and canoe for five days.
One important thing to know about SSI is that it's only available to incoming sophomores and juniors. Also, the cost of the trip is $750 which pays for camp tuition, transportation to and from camp, camping equipment that isn't personal gear, and a technical t-shirt. Another important thing to know is that anyone is allowed to apply. Applications can be found on the Eagan High School website by going to academics, academic courses, science, and summer science. The objective of SSI isn't to go outdoors for five days and four nights just to fool around. Through the Summer Science Institute program, you'll learn about astronomy, geology, meteorology, water quality, plant life, and animal life. You'll also learn skills that are helpful in the wilderness such as canoeing, paddling, navigation, cooking while on trail, setting up and caring for a tent, how to work with nature, and more! Lastly, this program gives you a grade worth up to one credit. To earn this credit, you must go to the pre-trip meeting, complete the trip, complete a trip journal, and participate.
Mr. Kolehmainen is a teacher at Eagan High School that has been on this trip at least 10 times. He thinks that ever since it started, "it's been an awesome and cool program."
To new applicants, he recommends bringing, "a decent sleeping bag [and] good rain gear because you never know when it's going to rain." He also mentions that, "this trip is for anybody. A lot of people think that [since] they don't have any camping experience, [they] shouldn't try it but they should."
Mr. Martinez, who will be going this year, has never experienced this trip before but his initial reaction was "excitement, because [he has] always wanted to go to SSI and be one of the teachers that leads this trip." He's most excited to, "lead students on this trip and see their reactions to different things." Like Kolehmainen, he thinks that this trip is for any student, but they have to be ready to get, "out of their comfort zone, overcome challenges, and create new relationships."
Remember that if you'd like to go on this trip, you'll need to bring personal items with you such as a passport, sleeping bag, rain gear, clothes, sunglasses, a flashlight, personal hygiene items, and a parent permit form. There's only 48 spots available so what are you waiting for? Go apply for the 2018 Summer Science Institute program and make memories that'll last a lifetime.