Artist of the Month: Mallory Benda
Freshman Mallory Benda is a professional artist in the making. She is  currently enrolled in Survey Art I, and her favorite pastime is drawing. She describes her artistic style as semi-realism, explaining, "Realism is like photography, and abstract is just shapes and colors. My style is somewhere in between." In order to obtain this style she uses her favorite medium of water colors. "I like the expression that water color gives you," she says. "It's like uncontrolled chaos, but still beautiful in its own way." Benda had a tough time answering what inspires her the most, but in the end she picked all of the activities she is in, such as music, as well as everything surrounding her. She continued to explain, "Everything around me, along with my stance on life … are the main inspirations for my art. I try to channel this and convey emotions into my art."
Benda's favorite piece that she has created is a recently painted pastel reproduction of one of Van Gogh's pieces, Skull of a Skeleton with Burning Cigarette.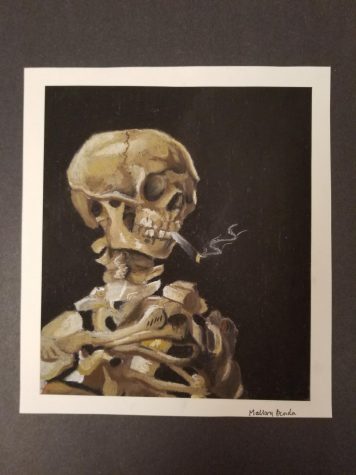 When creating new pieces, Benda uses her resources by looking at existing pieces. Once she finds one that inspires her, or a color scheme she enjoys, she asks herself what it means to her, and then "[throws] something on the paper or canvas."
Benda expects to keep art as a part of her life for a lengthy time, extending into her future and possible career. She confides, "I know it's not the classiest thing, but I want to be a tattoo artist." To budding artists, Benda advises, "You can't compare yourself to other artists; everybody has their own style and own experiences there's no such thing as a better artist. If it makes you happy, just do it."  That's a piece of advice everyone could take.
[slideshow_deploy id='8631′]