Word in the halls: how did you spend Valentines Day?
Sana Tahir, Staff Writer
February 27, 2020|12 Views
Valentine's Day; you either love it or hate it. If people have someone to spend it with, especially a significant other, Valentine's Day is typically a loved holiday.  If you're like some people, however, you dread this holiday. I talked to a few students and staff about their opinion on Valentine's Day and how they spent the holiday to spread some love.  
What did they do?
Kaylee Dehnke- grade 10: "I spent the day with my boyfriend and we went to Olive Garden!"
Yoo Mi Tomberlin- grade 10: " I went to Rochester for swimming on Valentine's Day."
Mr. Stevans: "I made my wife a card and pizza for dinner because going out to eat is expensive and it's always packed. My wife made me brownie cookies with ice cream and then we watched our favorite show" 
Heidi Stiles- grade11: "It was my sister's birthday so we went out to a sushi place to celebrate."
Alicia Franson- grade 12: "I went to Florida and spent the day at the beach."
Micheal Juarez- grade 12: "I went go-karting with my friends."
Mrs. Corbett: "I hung out at home with my husband, and he does all the cooking in the family.  He made a very special meal. It was not fancy, but it was delicious."
What do you think about Valentine's Day?
Mrs. Corbett: "It is a genuine holiday, it's St. Valentine's day, it's not like sweethearts day which isn't a holiday."
Mr. Stevans: "It's like companies made it, they make you do it, you should probably do cute things or else they'll dump you or something!"
Amilly Espinoza- grade 11: "It's definitely to make money!" You get flowers that are normally $10 for $40 and all the restaurants are packed."
Luis Torres- grade 11: "I think it should be considered a holiday, I feel like we should prioritize our loved ones over school!"
Jorge Mogollon- grade 11: "I think it used to be more of a holiday, but now it's more of buying pink stuff for people."
About the Writer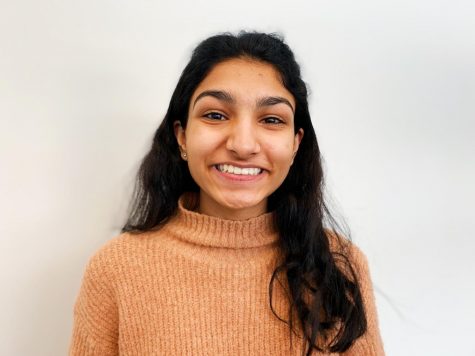 Sana Tahir, Features Writer
Sana Tahir is a junior and a features writer. She is a part of the Eagan track team and loves hanging out with her family and friends! Sana wants to be...