Dinner with a movie: Kitchen and Rail and D&D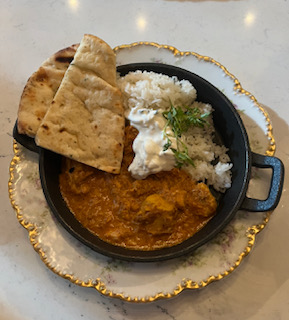 Kitchen and Rail recently opened on Promenade Avenue in Eagan. They describe themselves as "an eclectic mix of global flavors." I've heard many raving reviews about it, so I decided to make a reservation and see what it was all about.
It looked quite plain from the outside, sandwiched between other stores in the strip mall. However, upon entering I was met with a stunning interior. Chandeliers hung from the ceiling– there was even one with roses hanging from it. The artistic wallpaper and ambient lighting immediately caught my eye. We were seated promptly– the service was phenomenal.
The menu was indeed a mix of global flavors. It boasted various types of cuisine, including Vietnamese, Italian, and Indian. I ordered the butter chicken. Our meals came out on intricate plates that were almost as pretty as the food itself. The butter chicken came with a side of naan and it was delicious! Everyone at my table seemed satisfied with their food, and the fries were so good that we ended up ordering a second plate.
I would definitely recommend this restaurant to anyone looking for a nicer, yet still somewhat casual dining experience with lots of food options. It was a bit on the pricey side but I feel that both the environment and the food itself was well worth it. This would be a great place to bring friends and family to on the weekends or to have a celebratory dinner at for special occasions. 
After a spectacular dining experience, I headed over to the movie theater to watch Dungeons & Dragons: Honor Among Thieves. I have never been into Dungeons & Dragons, so going into this movie I had zero expectations. I was pleasantly surprised. It was an engaging and charming plotline that kept me on the edge of my seat. The cheesy one-liners even warranted a few chuckles. Overall it was a story of adventure and found family, and while a few of the references went over my head, I thoroughly enjoyed it and would recommend it to anyone looking to watch a fun and heartwarming film.