Zenner and Nkwonta Announced as King and Queen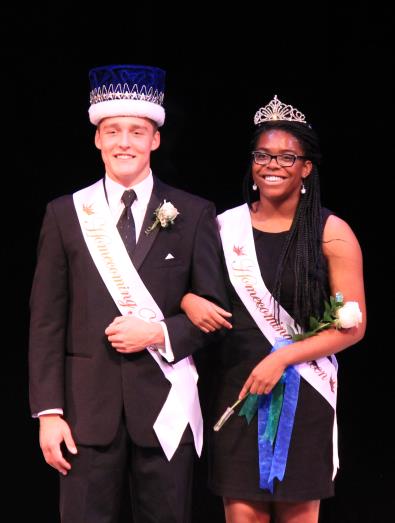 Seniors Sam Zenner and Bianca Nkwonta are this years' Homecoming king and queen as revealed at coronation on Saturday, September 20th. The night not only consisted of crowning the king and queen, there were also many musical performances by Eagan students.
Nkwonta describes the reaction she had when the crown was placed on her head, " I didn't expect it. I didn't know what was going to happen, so I kinda was just like 'wow this is really weird'".
The homecoming court has been together as a group since they were announced as royalty at the pep fest on September 12th. Both Nkwonta and Zenner agree that meeting new people has been the greatest part of the experience so far.
Zenner said, "I liked hanging out with some peeps." Nkwonta agreed saying, "[I enjoyed] getting to know some new people on the court. Because they're all really really cool."
Going forward, Zenner and Nkwonta will be making an appearance as royalty at the middle school pep fest, as well as the high school pest and the game on Friday.  As representatives of our school, they have already been recognized as great role models.
Zenner says hes going to, "just keep doing what I'm doing." Nkwonta elaborated on this, "I'm going to keep carrying myself in a positive way."
Besides the royalty, many talented singers and instrumentalists performed at coronation making the night a success.
The first performance was by Junior, Caitlin Scovil, who sang and played the piano to the song Imagine by John Lennon. She had already prepared the song for the state fair talent contest and decided to stick with it.
The second performance was Hey There Delilah sung by Nicholas Chapdelaine and Charlie Wickham. Sophomore, Joe Kelly, accompanied them on the guitar.
Seniors, Annika Heine and Morgan Rainford sang Toxic along with Scovil for the third performance. Kelly accompanied this trio as well on the guitar.
Rainford shares the amount of time put into practicing, "We went to Annika's house one night and practiced for like 6 hours. And then just every day during lunch and sometimes before school we would practice."
The fourth and final performance was by Senior, Abby Ross, who sang the song Landslide.
All of these performers put in a lot of time and effort to make the event the best that it could be. Their work, along with the Student Government and others, put together a night worth remembering.