Speech Team Auditions Have Begun
Auditions for the Speech Team are being held this week in Ms. Anker's room. They are on Tuesday, Wednesday, and Thursday from 2:30-5:30. Each audition lasts five minutes and is performed in front of a panel of judges.
This year, Speech hopes to accept about 25-30 new members to its team of about 65 members.
Students curious about Speech and what it has to offer attended an interest meeting on Tuesday, November 4th in Lecture Room C. There, they were apprised of the thirteen different categories of Speech and witnessed talented performances by Nick Saxton, a senior, and Aekta Mouli, a junior.
On Thursday, students who were serious about trying out for Speech then went to an audition workshop where members of the Speech Team helped them prepare for their auditions where they must execute humor, drama, public address, and poetry excerpts.
"
"
We have strong coaches, kids with a really strong work ethic, and people that really want to be successful…"
— Ms. Anker
At the audition the coaches will decide if you have what it takes to be a part of the team. If you do, then they will decide what category suits your personality and skills. The new team list will be online at eaganspeech.org after the tryouts have ended.
"So many things are obtained from Speech," Ms. Anker, the head coach, explains. "Confidence, performance skills, ability to handle yourself in stressful situations, ability to take criticism, ability to face setbacks and failures, and so much more."
With so many abilities being developed in Speech, it's no surprise that Eagan has one of the top Speech programs in the nation. Ms. Anker describes why she thinks the team is so successful. "We have strong coaches, kids with a really strong work ethic, and people that really want to be successful so they work hard until they figure out what it takes to be at that level."
Ms. Anker and all of the coaches remind everyone auditioning to make bold choices, practice, and to mean what you say. They also suggest arriving 10-20 minutes early so you can practice in the hallway and perfect what you're going to say. Good luck to everyone trying out!
About the Contributor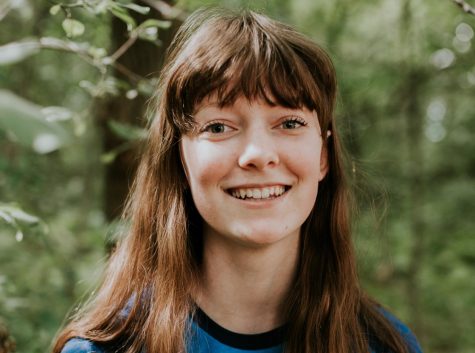 Elsie Goren, Co-Editor-in-Chief
Senior Elsie Goren, who can walk on her hands, loves all types of seafood. Her favorite book is "Ender's Game," and she intends to explore Japan someday.