'The Venetian Twins' Tickets on Sale
Tickets are now on sale for the upcoming spring play, The Venetian Twins. The performances will be held February 26-28 at 7 pm.
In the show, two twins separated at birth, both played by Senior Chris Leppink-Shands, arrive in the very same Italian city. They each don't know that the other is in the city, which brings much confusion. The first twin, Tonino, is elegant and intelligent, whereas his twin Zenetto is quite naive. One of the twins comes for love, and the other comes to be married.
"
Its a funny show and it's creative and exciting"
— Chris Leppink-Shands
The cast has been working very hard to perfect their performance. Leppink-Shands states, "The cast is pretty great. We have invested a lot in some younger actors and actresses, which I feel like is good. A lot of us have really great dynamics with one another. Rehearsals are really tough. They are a lot of work, but we want it to be perfect."
The performances are expected to be a success. Leppink-Shands explains, "I expect people to like it. Its a funny show and it's creative and exciting." Perhaps the success of the performance is partly due to the work of director Mr. Melchior.
Junior McKenna Barker says, "Mr. Melchior is more like a coach than a director most of the time, as he allows us to make decisions in the blocking and the interpretation of the lines."
Barker also expects many people to enjoy the performance. She explains, "The show is one of the funniest I've been a part of, and I hope to hear laughs from old and young alike."
"
I hope to hear laughs from old and young alike."
— McKenna Barker
Tickets are approximately $7, for more information visit to EHS website.
About the Contributor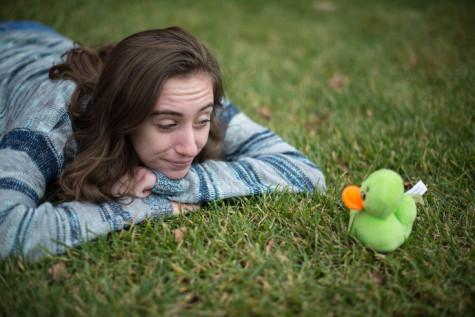 Morgan Reddekopp, News Writer
Junior newsie Morgan really likes metal music. One time, she didn't finish her homework! On purpose! She would like to study creative writing or photojournalism...