"She Kills Monsters" at EHS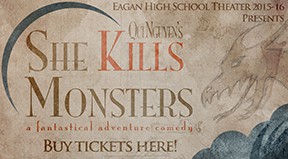 Over the years, the theater crew has excelled at putting on spectacular shows for the diverse Eagan audience. This year's fall play will be "She Kills Monsters" by Qui Nguyen. The play is about Agnes Evans, who leaves Ohio after the death of her young sister, Tilly. She then finds Tilly's Dungeons and Dragons notebook, which introduces her to Tilly's imaginary world. Director Mr. Brook says, "You can expect to see a comedy with a lot of heart.  You can also expect to see sword fights, monsters and a maybe a dragon, if you're lucky."
As always, the cast is a good fit for this play. Mr. Brook says, "The rehearsals have been fantastic. This cast makes each other laugh every day.  They support each other, work hard and make each other better performers.  They are also incredibly professional, doing the work and never complaining about the long hours."
Also according to Mr. Brook, "For this play I looked for something in which student actors and audiences in particular could find some essential human truth. I also looked for something with a lot of actors, a sense of humor and that wasn't performed regularly performed in high schools.  I also looked for plays with fully developed roles for women.  Sadly, the number of plays with three dimensional female characters pales in comparison to the number of plays with the three dimensional male characters.  And, on top of that, women are often relegated to romantic interests for the primary male characters.  This play served all of these needs and more, so it was a perfect fit."
Lastly, he encourages, "Come see the play! It isn't much longer than an hour and it'll be like nothing you've seen! Plus, swords are cool."
The dates of the shows are October 1, 3, 9 and 10 with a senior preview September 30.
About the Writer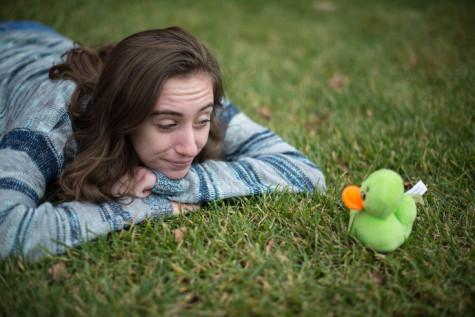 Morgan Reddekopp, News Writer
Junior newsie Morgan really likes metal music. One time, she didn't finish her homework! On purpose! She would like to study creative writing or photojournalism...