Robotics Season Starts Up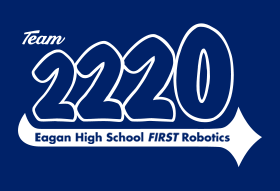 As the new school year begins again, so do all the clubs at EHS, among them the robotics team, 2220 Blue Twilight.
Expectations are high this year. Junior Morgan Davies states, "Our new season doesn't officially start until January, but right now we've gotten a bunch of new recruits and started training, so I think it'll be a good year."
Junior Arunima Bhattacharya says, "We are actually expecting quite a few new changes this year." Among these changes are new members, a new organization structure, and trying to get more people to join the team.
Additionally, Davies says, "We've rearranged our leadership structure and are also working on some ways to help organize the team to make it more cohesive. As for the game itself, we won't know until January, but based on the change in the game last year, I'm expecting something that we can see [based] more in the real world, versus a game based on sports."
Although there are many admirable aspects, Bhattacharya acknowledges that her favorite parts of being a part of the team are the ability to learn a lot and the people on the team. She says her fellow members are knowledgeable, sweet, and amazing, and that she very much enjoys spending time with them.
As with all clubs, there is a lot to know about the EHS robotics team. Bhattacharya explains jokingly, "It's not just about being a nerd. You are able to learn so much about the real world." Among these skills learned are how to meet deadlines and how to be a hard worker. Robotics is always willing to accept new members for what promises to be another great year. Anyone interested should contact a current robotics member.