Fusion Martial Arts Raises $1000 for Breast Cancer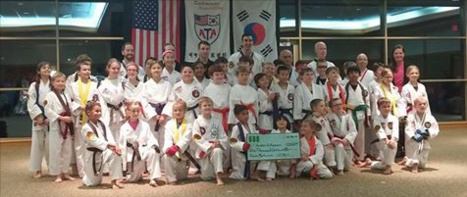 Kids learning taekwondo at Fusion Martial Arts raised $1,000 for breast cancer throughout the month of October through a program called Pink Belts. As October is Breast Cancer Awareness Month, head instructor Jake Marcus gave a pink belt to every student who donated twenty dollars.
All of the money raised went to the Susan G Komen Foundation. At the end of the month, the students presented a  large check to two representatives from the foundation. The representatives were "attitude judges" at the student's belt testing, according to Mr. Marcus. At the end of testing, the students posed for a picture with their new belts and with the representatives.
As the martial arts school is only a half mile away from Eagan High School, it has very close ties to our school. Mr. Marcus is an EHS alumni, and many of the students have some connection to EHS. Almost all of the younger students are enrolled in District 196, and many of them will be future EHS students. Many of the adults also used to go to Eagan, and some teen students are currently attending.
Normally during class, the highest ranked students line up first. However, throughout the month of October, the students wearing their pink belts got to line up first. The students also got a chance to decorate their pink belts. Many took this offer; some belts had marker drawings or lightning bolts, and some of the instructors even put sparkly tape on them.
The families of the students also really enjoyed the pink belts and the lessons that came with them. The Desantiagos currently have both of their kids enrolled at Fusion Martial Arts, and both students donated and received their pink belts. Their parents said that the program was definitely beneficial to their children. "It definitely has taught them charity and the benefits of giving to others and to a cause. And it teaches them about the disease itself."