"Still Life with Iris" Seizes the Stage
Elsie Goren, Co-Editor-in-Chief
September 27, 2016|213 Views
Still Life with Iris, the fall play, hits the stage this October. The senior citizen preview is at 3:30 PM on Wednesday, October 5th. Performances are on the 7th, 8th, 14th, and 15th at 7:00 PM in the EHS auditorium. Tickets cost $5 for senior citizens and students. The price of adult tickets is $7. The box office opens on Monday, October 3rd and all seating is reserved via ticket. Written by Steven Dietz, the performance is intended for young audiences.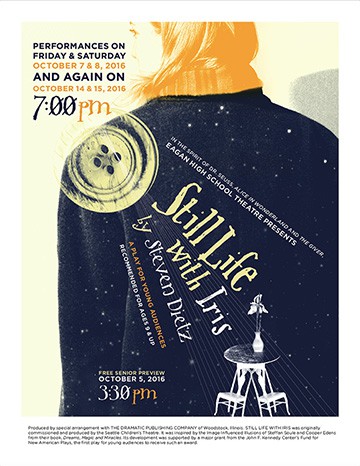 Directed by Damon Brook, Still Life with Iris lasts roughly an hour and 45 minutes. Described as a fusion of elements from Dr. Seuss, Alice in Wonderland, and The Giver, the play is expected to be a smash hit. The plot revolves around Iris, a young girl, who goes on a fantastical journey to uncover her past.
The tale takes place in Nocturno, an enchanting land where the residents craft, by night, all the things in the world we recognize by day. Every person in Nocturno safeguards a "past coat." Each coat contains an individual's particular memories. When Iris is torn from her life in Nocturno, she must find her way back using a single button, the sole remainder of her past coat. Over the course of her adventure, she encounters new friends: Mozart (Joshua Drucker) and Annabel Lee (Dexieng Yang).
"
It's a show about loss, gain, and finding yourself."
— Audrey Parker
Freshman Audrey Parker plays the star of the show, Iris. She elaborates, "I like the people. It's so cool as a freshman to be in a cast with all these upperclassmen who can show you the ropes. It's so cool bonding with them."
Parker, along with the entire cast and crew, appreciates Still Life with Iris's charm. She eagerly explains, "The show is very beautiful. It's a very universal story. It's a show about loss, gain, and finding yourself."
Be sure to buy your tickets for Still Life with Iris soon. You won't want to miss it! For more information, visit the EHS homepage.