Mr. Eichele Introduces Books for Wings Program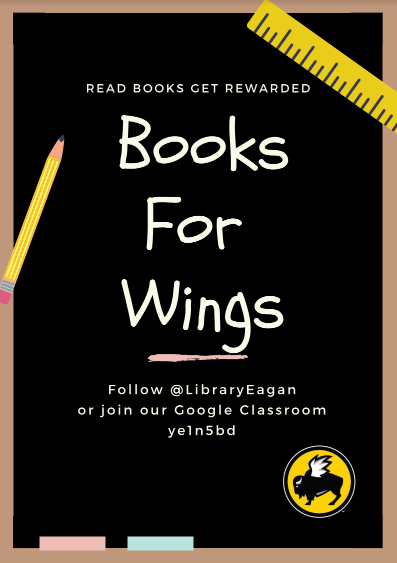 Mr. Eichele has partnered with the Eagan Buffalo Wild Wings to launch Books for Wings, a new library program that rewards readers. The idea stemmed from his childhood experiences with Pizza Hut's BOOK IT! program. Each book a child read earned him or her a star; five stars equaled a personal pizza. Now, his Books for Wings program incentivizes readers in a similar way.
To participate, students read books, then fill out short reports in Google Classroom with a book's title, author, and why they think others would enjoy the book. The Google Classroom code is ye1n5bd. Students also need to add a picture of themselves reading the book. Once the report is done, they can see Mr. Eichele for a certificate for a free snack-size sample of wings.
The program promises to be fun and entertaining. Mr. Eichele articulates, "A lot of times, people kind of read something for their own enjoyment because they have a lot of other stuff to read for school, but if there's a little incentive on the side, it should make it easier for you to have fun reading what you want to read." The program will also help students experience the benefits of reading. He explains, "Reading is very important. It will help you in everything."
About the Contributor
Annika Dean, News Writer
Junior Annika Dean, whose favorite food is strawberries, once encountered a gecko in a bathroom. She enjoys watching "Merlin" and is talented at making...