Thousands of Minnesotans Participate in Women's March
History was made on January 21 as millions of people marched to their state capitals in order to show they are not willing to give up their rights. Many women marched in protest of Donald Trump's plans regarding women's healthcare.
President Trump reinstated the Mexico City Plan, which hinders international non-governmental organizations that perform or promote abortions from receiving U.S. government funding. Many protesters were against this action. The Women's March also addressed other healthcare concerns, such as the inequality of immigrants, the LQBTQ+ community, Native people and other minority groups. According to their mission statement, the Women's March goal is "unifying our communities, grounded in new relationships, to create change from the grassroots level up." These marches took place in many cities across the U.S. and the world, drawing hundreds of thousands of women and men.   
Beginning at 11 AM, Women's March Minnesota trekked from St. Paul College all the way to the state capital. There, the marchers listened to a rally about feminism and protecting women's rights. Thousands of women attended, and all for different reasons.
Senior Meredith Wade says, "I decided [to go] because besides being a part of the community, I wanted to show support and march for something I strongly believe in within a community of people that have similar values as me."
Another woman in attendance was Jill Erickson, a Twin Cities business owner. She says, "I decided to go because I wanted to stand with like-minded women who prioritize social justice and oppose an administration that would put their personal agendas above that of marginalized groups of people."
But what effect do these feminist demonstrations have on the young women in today's society? Wade says, "I think that these marches that happen around the whole world show that you can make an impact on something you're passionate about by showing support and that you'll fight for something you believe in." In a male-dominant world, it is important for young women to speak up for what they believe in. Erickson says, "My hope is that the Women's March further advances a new age of activism and empowers a younger generation to speak out about what's important to them."                                                                                                                                                                                  
The Women's March was an extremely successful movement that sparked a lot of important conversation. Erickson states, "I think this is where authentic change is going to come from. I don't think it's going away. These movements will get bigger and stronger and increasingly difficult to ignore, and I'm looking forward to participating as much as possible."
About the Contributor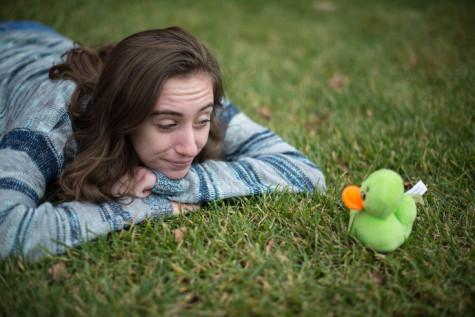 Morgan Reddekopp, News Writer
Junior newsie Morgan really likes metal music. One time, she didn't finish her homework! On purpose! She would like to study creative writing or photojournalism...