Mr. Cox's Class Wins PAWS Olympics
On February 8th, the homerooms of music teachers came together to compete in their inaugural PAWS Olympics. The four PAWS groups who entered the Olympics were Miska, Benson, Schafer, and Cox. Mr. Cox's homeroom was victorious, taking first place with a total of 25 points and 7 medals.
According to Mr. Schafer, the mastermind behind the PAWS Olympics, the original purpose of the Olympics was for homerooms to have a "fun time." He states, "For my PAWS, it was fun coming up with the events. We started talking about them in November and decided we needed to come up with eight events that could be completed in four days."
The wheelbarrow race, paper airplane toss, bottle flipping, pool noodle javelin, nerf game, fatima, writing board sprint, finger jousting, and bowling were the events that took place. The homerooms competed in the variety of activities over a period of four days in the Wildcat den. Each PAWS group could enter no more than 15 times over eights events, and, aside from the wheelbarrow race, no one could be in more than one event.
In order to win the Olympics, a homeroom had to win as many events as possible in order to acquire medals and points. Mr. Schafer elaborates, "The medal winners for each event eventually got a medal. The team award at the end of the Olympics is a heavyweight medal that will be used in the future for the Olympics."
In the Olympics, a gold medal is worth four points. A silver medal is worth three, and a bronze is worth two. Mr. Cox's PAWS won with 25 points. Both Schafer and Miska received 15 points, and Benson's class came in last place with 14 points.
Mr. Cox remarks on his homeroom's victory, "It was really fun competing with all the other homerooms. I'm glad that Schafer took the time in planning all this out so we could have fun."
About the Writers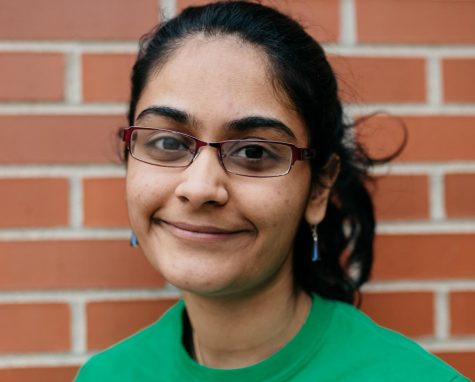 Swati Rampalli, News Writer
In college, senior Swati Rampalli plans to study medicine. Her favorite ice cream flavor is strawberry cheesecake, and her favorite movie is "101 Dalmatians."