Trinh Nguyen receives Professionalism Award
Sophomore Trinh Nguyen, a member of the Eagan mock trial team, received a prestigious award from one of the state's most respected attorney associations in February. The Minnesota State Bar Association honored Nguyen with its Mock Trial Professionalism Award.
The Minnesota High School Mock Trial Program is run by the Minnesota State Bar Association, allowing high school students to have experience in a law-related competition by competing in mock trials in front of an actual judge or attorney.
"Every year, the judges and/or attorneys at the competitions give awards to whole teams or individuals for demonstrating extreme professionalism," said Lissi Corbett, Eagan's mock trial coach. "Professionalism means things like civility, fairness to the other teams, politeness, respect for other competitors, integrity, and having a really professional demeanor."
At the conclusion of the competition, those same judges and attorneys come together to select a team or individual as the overall award winner. "I was completely taken aback by it when (Corbett) told me," Nguyen said. "I thought she was joking."
"The person who receives this award gets their name written in the mock trial case for next year, and I could not believe I was the one who deserved it," Nguyen added. "I am deeply humbled that the Minnesota State Bar Association does this award because it shows that your hard work does not go unnoticed."
Corbett was just as excited. "I was super impressed and excited for our team when I found out," Corbett said.
The award was familiar to Nguyen as her older sister, Tram Nguyen, won the same award in 2017, as a junior. "My sister and I are the only two people from Eagan who have received this award," Nguyen said. "Without the many coaches who spent endless hours helping my sister and I, I do not think we would be where we are today."
About the Writer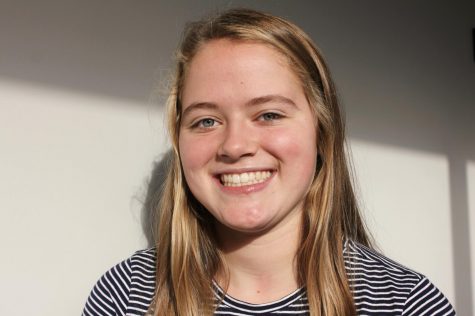 Ana McMahon, Sports Editor
Senior Ana McMahon is the sports editor who enjoys playing tennis, lacrosse, and the saxophone. When she's older, she would like to be a nurse and would...