Varsity Marching Band Celebrates Seniors
On October 1st from 7:00pm to 9:00pm, the Eagan High School Varsity Band, which consists of sophomores, juniors, and seniors, performed on the EHS football field. The event was organized primarily by the band directors (Brett Benson, Douglas Hart, and Michael Pearson) with the help of parent volunteers and the EHS Band Booster. Compared to past events, the night was greatly modified in order to allow for an organized and safe experience. Due to the pandemic, students in band haven't been able to carry out the marching season they usually would each year. 
This evening was a fun outdoor experience for both, the Varsity Band students and their parents. Featured were multiple marching formations as well as a performance of the school song. The event was not financially driven, but rather, purposed to simply celebrate the Band Seniors and make the most of the marching season. During the second half of the night, Mr. Benson instructed the seniors to stay standing while the remainder of the Varsity Band knelt down in recognition of their dedication.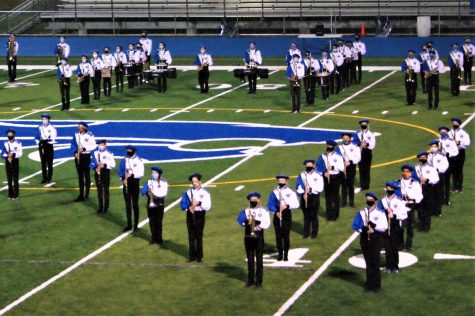 As for future band events, they are currently on "hold." Mr. Benson stated that, "There are no more planned for this year". However, with unprecedented and changing circumstances, there is still a possibility of a concert or other band-related gatherings for the 2020-2021 school year. The night was an overall final celebration of the 2020 Varsity Marching Band as there are no more scheduled events in the upcoming future.