Science Olympiad wins in regional; advances to state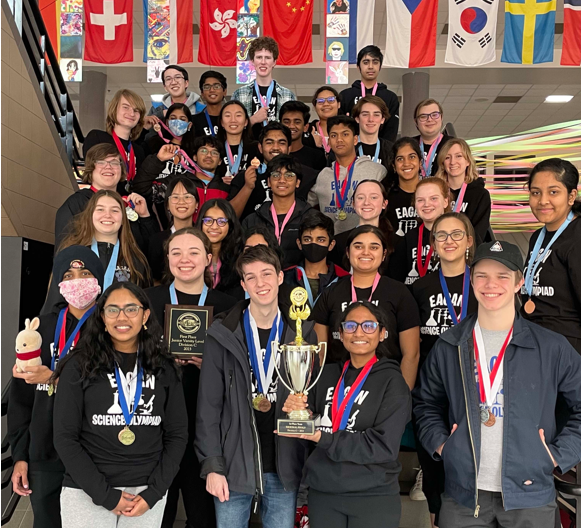 This year, for the second year in a row, Eagan High School's Science Olympiad teams have taken home the championship trophies in both Varsity and JV teams in regionals. The teams will now be moving on to the state championships.
Throughout regionals, many factors were incorporated to achieve victory. 
Anushka Aravindan, who participated in Chemistry Lab, Bridge, and It's About Time, states that, "I would say a lot of it goes to my coach. She's really dedicated, and she spends a lot of time working with us." 
Aravindan also said that her teammates helped her achieve third place in Bridge and first place in Time, "For my chemistry event, I did it with a girl named Harshita. She knew a lot about chemistry, and she also kind of taught me stuff [and] we had a really good duo together." 
For other students, like Harshita Nandyala, who participated in Chemistry Lab, Environmental Chemistry, Anatomy, Forensics, Green Generation, and Disease Detectives, it came down to her enjoyment of real-life applications, as well as her ability to take a test, "What it's really about [is] it's about how well you can take a test. It's not how much information you can memorize to do well on a test."
The students interviewed also enjoyed participating in Science Olympiad. For Aravindan and Nandyala, it was the fun community of Science Olympiad, "We do get our work done, we do get prepared for competitions, but I think we know how to have fun, and we're not like an uptight community, where we're so focused on winning and doing well in events." 
For students like Sam Wilcox, who participated in Cell Biology and Anatomy, she enjoyed the learning she got to do, "It's like learning stuff… anatomy is awesome, and getting to learn about it is cool."
For students who are looking for a new club or activity to do outside of school, or are interested in the Science Olympiad, these students also have suggestions, "I think being open-minded and also wanting to learn. When you're going into the Science Olympiad, you're not going to know everything, and that's okay," says Aravindan.
 Wilcox states, on the other hand, that organization is key to being successful on the team, "I think you need to be really organized, and you need to be able to organize your cheat sheet properly." 
The Science Olympiad team will be competing in the 2022-2023 state tournament at Bethel University on Saturday, March 4. For more information on how to join Science Olympiad, contact science teacher Lisa Hinsz.