Boys' soccer done; girls on to State
The girls' team has had a groundbreaking season overall. For the first time in years, the Lady Cats have gone practically undefeated, the only exception being a tie against Eagan's rival, Eastview. Their impressive run had them seeded first in the Conference Tournament, where they defeated all of their opponents and earned a spot in the State Tournament.
A week ago, beginning their section tournament run, our girls took the field by storm, scoring a total of 7 goals in a shutout against Sibley, who – despite their best efforts – couldn't get the ball past star goalies Ashley Patyk and Jordan Clark. I had the chance to catch up with Clark for a post-season update. She mentioned that the team recently "had a good practice with Washburn [High School], just to get ready for the postseason." The southern Minneapolis team also went undefeated in their regular season.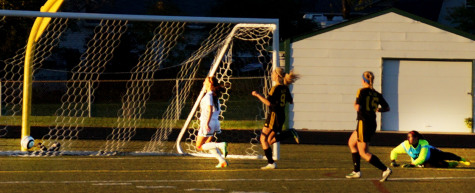 Morgan Jacoby
Clark added that it was among her personal goals "to have no goals against" during this section tournament, hoping "to make every game a shutout." Unfortunately, she couldn't quite make that happen, but only two goals allowed in three games – along with three huge wins – is an acceptable consolation prize.
Despite the Lady Cats' confidence during their regular season, there was one particular game that flawed their otherwise perfect record. A few weeks ago, our girls took on school rival Eastview in an intense match-up. With neither team showing any give, the game finally ended in a 1-1 tie.
"
We're all really close on and off the field, and it's been that way since day one."
— Taylor Kenealy
Lead Varsity scorer and Captain Taylor Kenealy blamed the excitement. "We were all just really excited, really nervous. There was a lot of pressure because Eastview is our rival school and everyone was just super hyped." On another note, Kenealy spoke with confidence and admiration about her fellow teammates, mentioning that, "We're all really close on and off the field, and it's been that way since day one." Hopefully, the team will take advantage of their chemistry and newfound tranquility as they progress into the State Tournament.
As far as personal goals go, Kenealy hopes to score a total of 20 goals in her combined seasons. She is currently at 12 goals, and with eight to go she is confident in her abilities.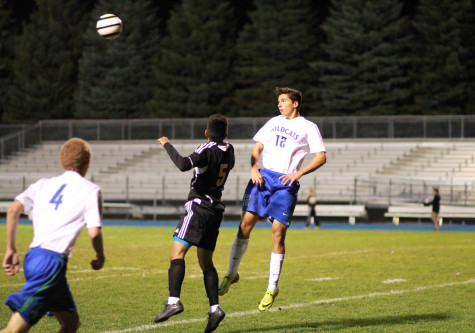 Erin Barcaskey
Of course, the Ladies weren't the only ones competing in Sections this week. Their male counterparts also strove for gold in the 3AA Section Tournament. Captains Chad Miller (11), CJ Williams (12), and Luke Abbott (12) led the boys' 2014 season.
They won their first game in sections, 4-2, against seventh-seeded Burnsville, at which point I caught up with Head Coach Alan Merrick to see how he felt the postseason had been going. Merrick's goals were simple: "Get the guys as far as possible, which will hopefully be St. Cloud for the State Tournament."
[slideshow_deploy id='1330′]
Getting there proved to be the hard part, unfortunately, as the boys fell short of their coach's aspirations. They played Rosemount next, and entered with confidence – the boys had played Rosemount previously in the regular season and won 4-2. However, this time around, things simply didn't go as planned. They lost 2-1, despite scoring the first goal and leading for half of the game, in a disappointing end to their season.
If nothing else, the Eagan team can find a silver lining, as multiple key players will be returning next year in what should be an equally-competitive year. In the meantime, the girls still have a shot to prove that they are deserving of their number one ranking in the state. Their first State Tournament matchup will fall between October 21-23, with a concrete date being announced once all seeding has been determined. Go get 'em Lady Cats, and good luck!