Eagan Volleyball Is In It Together
Once again, the Eagan Volleyball team is going above and beyond to show that they are number one. Having won the State Tournament last year, Eagan is looking to defend its title and add a sixth banner to its resume.
Coach Kathy Gillen stated that, overall, she's been "happy with the squad's play"  and that "the team has progressed and is playing its best volleyball now at the end of the season."
Led by Alix Putman, Maddie McNeil and Callie Schapekahm, the team captains, the Wildcats boast a strong mix of experience and youth. They have three new players on the Varsity team complementing the maturity of eight returning players. Coach Gillen is pleased with the leadership on her team, noting that the older girls have really nurtured and supported the younger ones and have earned their respect.
"
It was a really big deal to win, especially on senior night"
— Alix Putman
Senior captain Alix Putman believes the team is ready for any competition that is coming their way. In fact, on of Alix's favorite memories was beating Eden Prarie on senior night, a team that was big competition and was favored to win over Eagan. "It was a really big deal to win, especially on senior night – a great way to end volleyball at Eagan High School." Alix also hopes to face Prior Lake and give her team an opportunity to redeem themselves for their only conference loss.
Sophomore Alyssa Doucette is also very excited by the opportunity of proving that the girls' loss to Prior Lake wasn't indicative of their play, explaining, "One reason our game was off against Prior Lake was because we didn't do our pre-game ritual, singing High School Musical." Doucette also stated that, "[The pre-game ritual] gets the team pumped and ready to go before every game".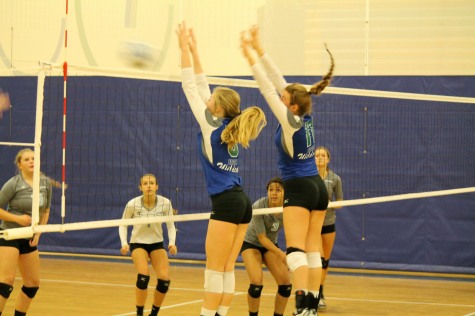 Olivia Crutchfield
With the team advancing one step closer by winning this past Tuesday, along with having an overall record of 17-4 and being ranked sixth in the state of Minnesota, Eagan High School is exited to cheer the girls on as they try to make eleventh appearance at the State Tournament. Their next game is on Saturday, November 1st, at Prior Lake vs. Lakeville South. Be sure to make the trek out there and help cheer the girls on!