Champions: Girls' Soccer Wins It All
Junior striker Jade King came through when it counted most, slamming the ball past Eden Prairie's goalie and producing the championship's lone goal with 14:26 left in the first half. "When Jade's goal went in, it was surreal," explained senior Rachel Wall. "After I saw everyone else celebrating, I was ecstatic and it was just crazy."
Having produced a lead early, the girls stayed firmly committed to their brand of brutal defense for the remainder of the match and refused to let Eden Prairie tie things up. "After the goal, we started playing with just one forward," King said. "We tried to clog up the midfield a lot and keep them from getting the ball."
Even when goalie Ashley Patyk had to replace starter Jordyn Clark, who left the game with an injury early in the second half, the girls' defense didn't falter. All told, the team failed to allow even a single goal during its three-game State Tournament run.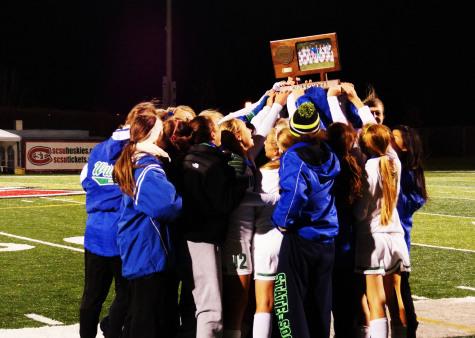 Morgan Jacoby
Thus, the girls finally concluded their dream season, and in awesome fashion, too – with the composed 1-0 victory over third-seeded Eden Prairie, they secured the AA title and lived up to their ranking as the number one team in Minnesota.
"We went in with a target on our back," Wall said in regards to the pressure of that ranking, "but we knew that we were a talented team and we just believed in ourselves and what we could do." Overall, the girls never lost a single game, finishing 21-0-1, and they will conclude this season ranked as fourth best in the country.
Certainly, EHS has had some competitive girls' soccer teams over the years, but none as successful as this – having earned the school its first ever state championship, this 2014 team will surely be regarded as one of the school's best ever.
One reason for the huge improvement from last year to this one was the girls' new head coach, Bulut Ozturk. "He's a goofy guy, but I love him," said King. Wall added, "We were successful this year largely because of him. I love him because he's funny and knows how to balance work with fun." Hopefully, with a very talented returning group of players and a fantastic new head coach, next year's team will be poised to compete for another championship run.