Girls' Basketball Striving to Improve
The winter trimester has once again rolled around at Eagan High School and the fall sports season has come to an end, making way for the winter sports teams to take their place in representing EHS with fierce competition, not the least of which being the Girls' Basketball team.
The season started for the girls this year on December 4th, against Wayzata, a game that they unfortunately ended up losing by one point. On the bright side, the team came back in their next game on the following Tuesday – the 9th- and defeated East Ridge by a margin of eleven points, showing abounding improvement and plenty of promise for the rest of the season.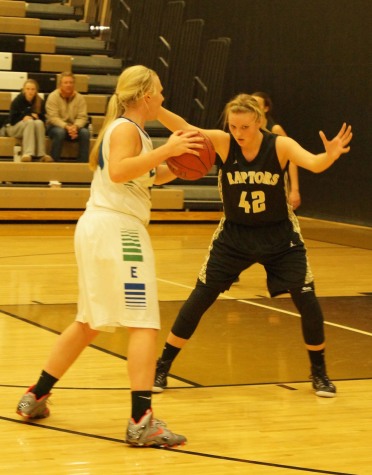 "We could use some work on our rebounding and our shooting," Senior captain Dani Bischoff stated when asked about what the team could improve. Bischoff also declared that the team has a lot of seniors this year, something she believes will be a contributing factor to their success as the regular season progresses and the post-season begins. Though they have plenty of senior leadership, there are a few talented and auspicious freshmen on the team as well.
"
We want to make it to the section final this year,"
— Tamira McLemore
As far as standout players on the team go this year, Dani Bischoff definitely seems to be most prominent, though she wasn't one to say so herself. Rather Junior guard Tamira McLemore commented on her captain, saying that "she's very good." Her stats definitely seem to show how proficient she's been on the court so far this season; she averages 15.5 points in the two games they've had this season, the highest on the team.
"We want to make it to the section final this year," McLemore stated when asked about the goals for the team. The ladies of Eagan's courts will be working towards that goal as their season continues against Lakeville North on December 16th.