Three freshmen lead the pack at SSC Run
The Eagan High School Girls Cross Country team wrapped up its 2018 season with a fourth-place finish at the Section 3AA Championship. They raced at Valleywood Golf Course on Thursday, October 25 after school.
"It felt so good to make it in the top five," freshman Rina Aschemann said. "It really was the perfect ending to my first season."
Three runners, freshmen Catalina Decker, Rina Aschemann, and Kyra Kusnierek, made it into the top twenty. Decker came in 15th with a time of 19:53, Aschemann was close behind at 19th with a time of 20:04, and Kusnierek placed 20th with a time of 20:05.
Also running were sophomore Mckenna O'Brien, junior Savanna McKinnon, and seniors Kelsey Schoeberl and Sarah Schuller. Alternates Maddie O'Brien, Lauren Gamme, and Grace Barton also made the sections squad.
The team's top ten runners were selected for sections. Members of the JV team made the trip to support their teammates with handmade posters and lots of pep.
"Every year we make a poster for each runner to show our support," sophomore Molly DeSutter said. "They always have some sort of pun with the runner's name in it and after the race the runner gets to keep it."
Both Aschemann and DeSutter mentioned a real sense of community among the girls on the team. "I was super scared for my first season," Aschemann said. "But all the girls made me feel so welcome and helped me so much throughout the season."
DeSutter also added that there is season-long effort for the girls to become closer, saying, "We went to a cabin, a ninja gym, and a lot of other places focusing on team bonding. Even the early Saturday morning practices bring you so close to your teammates."
About the Writer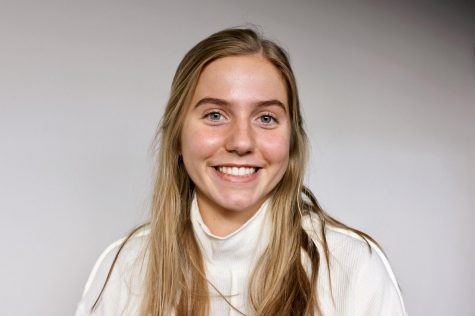 Carson Powell, Co-Editor in Chief
When she's older, senior Carson Powell plans to be a surgeon and explore either Greece or Singapore. Carson once watched fireworks from the top of the...