Girls Hockey face unfortunate defeat at section finals
Eagan High School's girls' varsity hockey team suffered defeat to East Ridge at section finals after controversy over the score. "I've seen the photos. We scored a goal, which [the referees] didn't count, which is unfortunate," says Mr. Kolehmainen, the varsity assistant for the team. "At that point, it was one to nothing. I think [East Ridge] had two shots on goal, and they got a breakaway and scored. We scored a goal in the first period to tie it, which [the referees] disallowed." The referees' call gave an extra boost of confidence to East Ridge and a dose of tentativeness to Eagan, ultimately deciding how each team played in the second and third periods.
"It stinks," continues Kolehmainen. "Obviously, we were the top seed, so we were supposed to make it to state." Eagan girls' varsity had won against East Ridge earlier in the season, six to three. "I think we outplayed them in the first period pretty badly. [We] just couldn't score, and it kind of fell apart from there."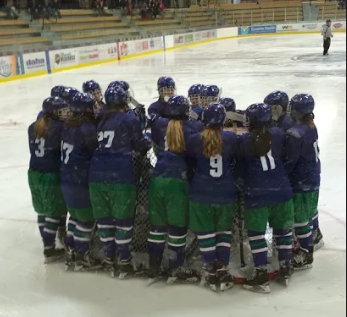 But there's always next year. "You just have to trust in the skills that you have, and I think the girls know that… In that game, we started choking on our sticks a little bit and thinking too much." He says that the team missed out on "just playing the game" and having fun.
Besides section finals, the season was great overall, according to Kolehmainen, with 21 wins. "To be honest, [this team is] one of the best squads we've had in terms of cohesiveness and teamwork and friendships." It was an unfortunate end to the season, but there is always hope for next year.