Winter wrap-up: gymnastics, wrestling, & Nordic skiing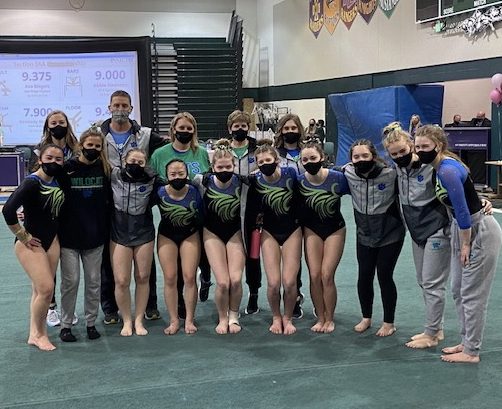 As Eagan winter sports come to a close, it's time to shine a light on the teams and athletes that competed at the state level this season: gymnastics, wrestling, and Nordic skiing.
The Eagan gymnastics team went to the Minnesota State High School League (MSHSL) State Tournament as the Section 3AA Team Champions. This is the first time in the history of Eagan High School that they have qualified as a team. The gymnastics team was also awarded the academic award for section 3AA for the 5th consecutive year. The MSHSL state tournament was held at Champlin Park High School on Saturday, March 27.
The gymnasts that competed were Isabel Furness, Claire Prinske, Ali Anderson, Samantha Ballesteros, Ali Dahl, Hannah Maccarone, Kylie Pesik, Joslyn Hansen, Gwen Paolello, and Tess Peterson. The coaching staff includes head coach Shelly Eklund and assistant coaches Wayne Kranz, Kaitlin Graff, Claire Johnson, and Krissy Boyd.
The individual finishes at sections were junior Hannah Maccarone who got 1st in all around, vault, and bars, and placed 3rd on floor. Isabel Furness placed 2nd in all around, 3rd on bars, and 2nd on beam. Samatha Ballesteros got 2nd on bars, 3rd on beam, 1st on floor, and Gwen Paolello placed 2nd on floor. The entire team ended up placing 4th overall.
Hannah Maccarone shared her favorite memory from this season, which was the moment she found out that the team was going to state. "I remember waiting for the final announcement at sections, trying my best to add up the scores in my head when our coach finally came over and told us we made it," said Maccarone. "It felt like the entire gym erupted into cheers and tears as we all hugged each other and started screaming. We were all so proud of each other, you could practically feel all of the emotions in the air."
Maccarone went on to say that "I think our team was very focused on being a 'team' this year and that really helped us get through the many obstacles we were faced with. Every year we work together and support each other, but especially with the new environment of COVID, we had to make sure that we were there for each other more than ever before." Continuing, Maccarone described the atmosphere and connection of the team sharing that "the gym was always filled with love, hard work, and persistence because we were all happy that we were even able to compete this year. I think all of this teamwork and positivity contributed to the amazing season we had as a team!"
A few wrestlers from the Eagan wrestling team also made it into the MSHSL state wrestling tournament. They competed on Thursday, March 25 at St. Michael-Albertville High School. Austin Kalina placed 2nd in Independent State Preliminaries and Diego Villeda was crowned Champion at the State Preliminaries. The head coach is Zach Hanson and his assistant coaches are John Jackson and Ryan Cook. 
Additionally, both the Eagan boys and girls Nordic ski teams made it to state. The girls' team competed on Thursday, March 11th, and the boys' team on Friday, March 12th at Giants Ridge in Biwabik. The Eagan girls team members that qualified for state are Olivia Matsoff, Kyra Kusnierek, Naomi Fink, and Emily Najlis. The Eagan boys team members that qualified for state are Michael Marshall, Samuel Abbott, Arlan Hegenbarth, Samuel Marshall, Thomas Valusek, Luke Poppinga, Aaron Luu, Matt Moore, and Ethan Hall. After two well-fought races, the girls' team ended up getting 14th place and the boys' team placed 12th.