Fall Marching Band Motivational Speaker
Eagan's Fall Marching Band Elects a Motivational Speaker to get the Band Pumped up Before Every Halftime Show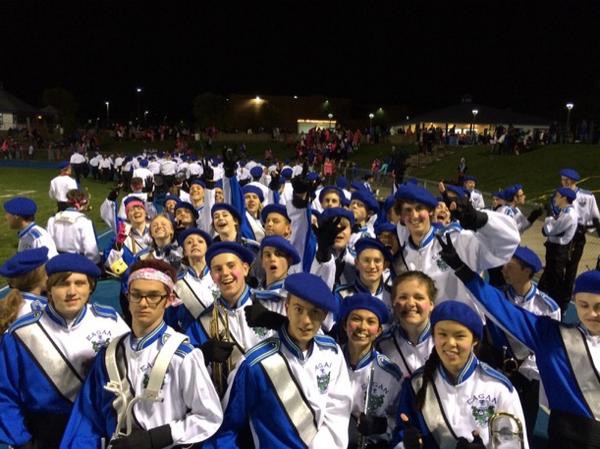 Marching band is an age old tradition for all schools, and Eagan High School is no exception. It is no secret that our band kicked butt this year, and a lot of that is due to their motivation. In every marching band season there is a speaker-always a senior- chosen to get the band pumped up just before their halftime show.  The whole band gathers around this person, listens, laughs, and gets excited as they put all their hard work into motion.
Each year the senior speaker chooses a junior to follow their legacy. Quincy Nkwonta was the marching band speaker for the 2013 season. At the last halftime performance, Quincy carefully selected his successor to be this year's John Herbrand. Since Herbrand is already in speech, and is a naturally humorous person, each speech was unique and focused to entertain the band.
There is always an extravagant theatrical element to be expected from each speech. It is meant to get the band pepped up and ready for their next conquest onto the marching band field. He incorporated his personal style into the speech by introducing a famous villain, using the shows dilemmas as humor, and of course praising the name of Brett Benson, one of the infamous band directors.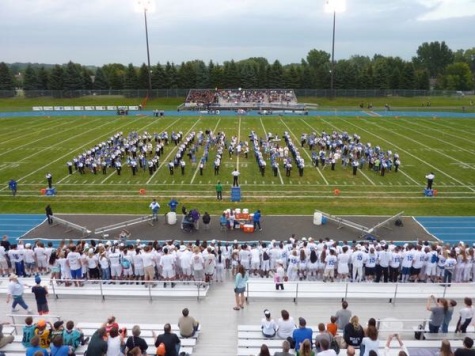 When asked about the speeches, Herbrand said, "Coming up with the speeches almost come naturally and happen in a moment with inspiration. There are constant ideas and changes, spur of the moment changes." The speeches this year were hilarious and incredibly motivational, John says that there are are always more ideas. "I would have incorporated The Little Mermaid!"
"
The speeches almost come naturally and happen in a moment with inspiration."
— John Herbrand
Every speaker has their own individual style and sense of humor. So next year's chosen Alex Hauser and Cole Mueller are expected to even more creative than years past due to there being two speakers instead of one. Even though this years act will be tough to follow, the band expects that next year's speakers will rise to the challenge. Hauser and Mueller say that they already have an idea of their style. "It will, as always, be hilarious and have no dull moments". The goal is to get the band excited and pumped up for their halftime show and that is exactly what they plan to do. The pair are good friends and say they work well together to make next year's speeches just as entertaining.
For a good show, it takes hard work and motivation. With plenty of hard work, the band enjoys their motivation before every show. The speeches have become something to look forward to and to look back on.