Artist of the Month
February's Artist of the Month is Clara Richard!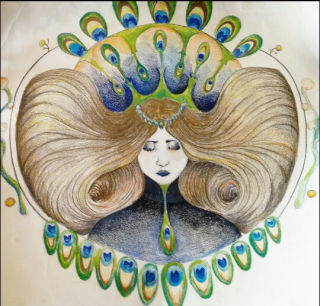 This month, senior Clara Richard has been named EHS Artist of the Month. An artist since the age of ten, Clara loves drawing and painting, her favorite mediums being pencils and watercolors. "Art has always been a habit for me," she says.
After watching the Lord of the Rings movies and trying her hand at drawing the iconic elves, Clara discovered that she was not only good at drawing, but also that she loved doing it. Although she began by teaching herself, she took a class in 8th grade and has since taken many more, both at the Eagan Art House and through the EHS Art Department, to develop her technique. She enjoys drawing both people and surreal scenes, like one of a spiraling hallway based off of a manga she had read.
Clara plans to major in art in college, with an emphasis on computer animation, and to go into the animation field. She says, "I like the movement aspect of animation." Even though the field is slow-growing and can be very competitive, Clara is interested enough to pursue the career.
Clara says that Glen Keen, an animator who has worked for Disney for many years, has also inspired her. Since beginning her mentorship with an animation company in Minneapolis, Clara is even more set on an animation career.
Congratulations to Clara Richard, January Artist of the Month