Mystery Science Theater Reaches Kickstarter Goal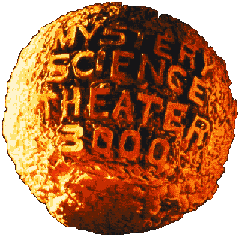 Not many big cable network television shows are made here in Minnesota, but there was one comedy classic that was. The name of that show is Mystery Science Theater 3000. Unfortunately, the last new episode aired way back in 1999. But now, the show is coming back.
For those of you unfamiliar with the show, here's a quick summary: Two mad scientists launch their unsuspecting janitor into space. Stuck on a satellite along with two robot pals, the trio is forced to watch horrible old movies as part of an experiment. They make the best of the situation by making jokes about the movies.
The show ran on Comedy Central for six seasons and the Sci-Fi Channel for three more seasons. In total, it had an 11-year run and aired nearly 200 episodes. In addition, MST3K was nominated for two Emmy Awards, won a Peabody award, and was listed as one of Time magazine's "100 Best TV Shows of All-Time." The crew has asked cable networks to bring back the show, but none accepted. On November 11, 2015, Joel Hodgson, the show's creator, launched a kickstarter campaign to bring the show back. His goal? Getting enough money to produce at least three episodes independently in hopes of getting a cable channel to notice and pick up the show on their channel.
Fans responded in force. Recently, the campaign passed the two million dollar mark, which will allow the crew to make three brand-new episodes. Over 24,000 people have funded the project so far, with more donating every day. As a reward, Hodgson revealed a few members of the new cast. Jonah Ray will be hosting, with Felicia Day as the next mad scientist. The new voices for the robots, Tom Servo and Crow T. Robot, have yet to be revealed.
The ultimate goal for Hodgson and his crew is to hit the 5.5 million dollar mark. With that much money, they can produce a full 12 episodes. Want to support the campaign yourself? You can do so at bringbackmst3k.com. And if you want a taste of the original show, MST3K will be having a "Turkey Day Marathon" on November 26. It will be live streaming on Yahoo (and on the Yahoo app) here. You can also access it on the Pluto TV app, channel 545.
5.5 million dollars is an ambitious goal. However, fans only have until December 12th to make it a reality. But with three new episodes already a certainty, fans are grateful MST3K will even be coming back. After all, fifteen years has been a long time to wait.