Trump Calls for Do-Over in Iowa After Defeat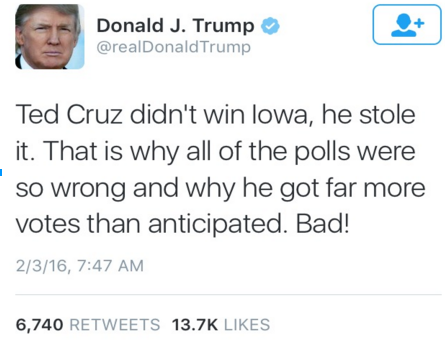 Less than 48 hours after his defeat in the Iowa caucus, New York businessman Donald Trump called for a do-over.The results from the Iowa caucus showed Sen. Cruz taking the lead with 28% of the vote, Trump coming in second with 24% of the vote, and Sen. Marco Rubio coming in third place with 23% of the vote. Trump accused Sen. Ted Cruz of 'stealing' votes, and called for either a new voting to be held for the Iowa caucus, or the results to be nullified.
The accusation sprung out after reports that Cruz staffers lied to caucus goers by indicating Dr. Ben Carson was dropping out of the race. Cruz has since called for the firing of those people and has personally apologized to Carson. Still, Donald Trump attacked the Sen. in a series of tweets questioning the outcome of the Iowa caucuses.
"Ted Cruz didn't win Iowa, he stole it," Trump tweeted. "That is why all of the polls were so wrong and why he got far more votes than anticipated." Ironically, Trump had been thanking Iowans for his second-place finish and congratulating Cruz on his win just days earlier. He even told reporters that he was "very happy with what happened in Iowa."
Fortunately, the Cruz campaign responded with a bit of humor. Cruz communications director told CNN:
"Reality hit the reality TV star in Iowa, so nobody is talking about him now, so he's trying to regain some attention on Twitter. There are Twitter addiction support groups, so he should seek out his local chapter." Cruz further says, "I wake up every day and laugh at the latest thing Donald has tweeted because he's losing it. We need a commander-in-chief and not a twitterer-and-chief."
Cruz teased Trump back on Twitter, suggesting that his Republican rival has become a Democrat, and then linking to one of his anti-Trump ads.
"Bernie is contesting #IA results. Maybe Donald should go back to IA & join the Ds. Bet they'd love #TrumpCare," Cruz tweeted.
He later added, "Yet another #Trumpertantrum… @realDonaldTrump very angry w/ the people of Iowa. They actually looked at his record."
The outrageous Twitter war sparked between the two candidates, with Trump calling for a do-over in the Iowa caucus, and Cruz making light of his opponent's accusations. Carson himself refused to comment on Trump's demands for a do-over in Iowa, although he did allude to the events by remarking that there were clearly "people who tried to take advantage of a situation." But in true Trump fashion, within a few days he commented: "I'm not thinking about Iowa, I'm thinking about New Hampshire. I don't care about it anymore."
It sounds like Cruz was right. The Iowa caucus drama was simply another temporary "Trumpertantrum". The real battle has yet to begin.