Winter Blast Week: An Overview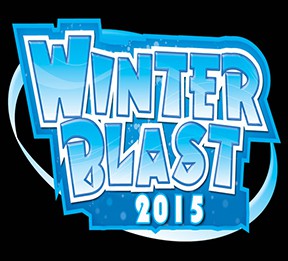 Winter Blast Week has come and gone, but not without some great moments and lots of spirit-filled fun.
One major event of the week was the Eagan AM edition of Polar Bear Bingo during PAWS. Math teacher Mr. Wirsbinski hosted with E.J. Henderson, former Minnesota Vikings linebacker and current Vikings Youth Football Manager.
Guidance counsellor Mr. Fritze, who runs the clock at some Vikings games, contacted the Vikings Outreach program, who asked Henderson if he would be willing to appear at Eagan.
"He was very nice," says Mr. Wirsbinski, "I could tell that he was a good sport. And while he was a passionate football player, he realized it was for the school and it was going to be funny, and we were just going to mess around."
Mr. Wirsbinski continues, "I kind of tested the waters before we started, and I pulled out the cheesehead and all that stuff. But that wasn't really in the script when I just kept holding and showing him things and he kept throwing them, but it turned out funny."
Also during Winter Blast Week, the coveted Medallion was found by seniors Mia Massaro and Alissa Ellingson. The medallion was magnetically attached to a cabinet in the hallway outside Mr. Pehl's classroom. They won a fifty dollar gift card to Holiday and Best Buy, as well as fifty dollars worth of food from anywhere within twenty miles from the school.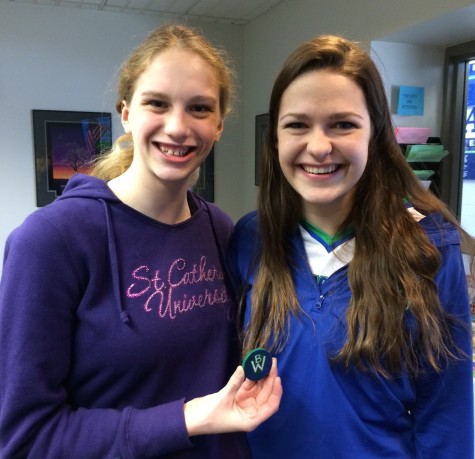 "I was surprised at how long it took," shares Ms. Stensaas, the teacher in charge of the medallion hunt. "I really thought it would go on day four. But, it just goes to show that when you think things are obvious, maybe they're not!"
On Thursday evening, the school held its annual Amazing Race challenge. Forty teams of about six students competed in unique events. The events were completely run by teacher volunteers, and most of them come up with their own ideas for challenges. "I talked to a lot of teachers, and they had a great time," says Ms. Haus, the main organizer of the Amazing Race.
The first team to successfully complete all the challenges was "Los Chicos" which consisted of Seniors Hannah Stelman, Margaret Harings, Abby Gaedtke, Dani Bischoff, Syd Funk and Maddy Shepherd. Each member of the winning team received a five dollar Rita's gift card, and the second and third place winners got bags of candy.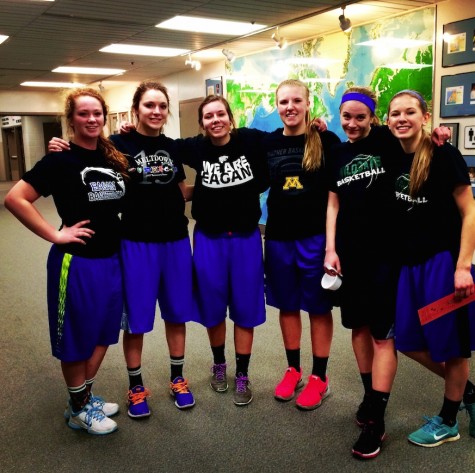 "It was awesome," Ms. Haus summarizes. "The number of groups was phenomenal. It's fun when you have forty different teams running around the school and doing all these events, it was crazy and a lot of good [strategy was being used]."
"I think it's one of the best things that Eagan High School does, just for a fun event," Ms. Haus continues. "It's quick, you can just have fun, and there's a little bit of everything."
"
I think it's one of the best things that Eagan High School does, just for a fun event,
— Ms. Haus
Friday afternoon brought the Winter Blast pepfest, which celebrated some of Eagan's many talented teams and pitted the four classes against each other in some very competitive games.
Eagan's first Winter Blast volleyball tournament, which replaced the dead Sadie's dance, happened on Saturday evening. 328 students participated in forty-nine teams. The tournament was separated into different divisions for girl's, boy's, and co-ed teams.
The girl's division champion was the sophomore team captained by Halle McGuire. The seniors who won the boy's division were lead by Jake Ossell, and the senior co-ed winners were captained by Anthony Metcalfe.
Mr. Kovach, one of the organizers, was satisfied with the tournament as a replacement for the dance. "From a financial standpoint, we did better. We didn't lose money. And second, there was a lot of involvement. We even had some spectators come to watch."
So far, the school plans to run the event again next year. Improvements to the tournament such as selling concessions, clarifying rules, and making time for more teams are being considered.
"We welcome any comments or suggestions from people. If [the students that participated] have any suggestions, let us know so we can make it better for next year," says Mr. Kovach.