White Christmas Hits Eagan's Stage
[slideshow_deploy id='8111′]This year, Eagan High school's winter production is Irving Berlin's musical, White Christmas. Based on the hit film made in 1954, White Christmas is the perfect show to see this holiday season. Show dates are December 8th, 9th,10th,14th,15th, and 16th, and tickets can be purchased on the school website. The show stars Mara Currens as Betty Haynes, Emma Sell as Judy Haynes, Ethan Estrem as Phil Davis and Jack Bechard as Bob Wallace. It tells the story of singers Bob Wallace and Phil Davis, as they join sisters Betty and Judy Haynes, to put on a Christmas show in Rural, Vermont for the boys' commander during World War II to help him overcome his financial difficulties.
The show features several musical numbers performed by Eagan's talented actors, including the classic, White Christmas, that'll have you singing for days afterwards. Audiences will experience wonderful music played by the pit orchestra, dazzling costumes, and sets provided by the theater's costume and tech crew.
"
It's crazy fun, the students are all extremely talented and you'll have a great time."
— Josh Campbell
Costume crew member, Emily Josephson explains that being behind stage opens your eyes to the amount of effort that goes into everything; how every detail in each musical number, costume, and set, has been thought out and planned. "I've loved learning how all the backstage technology works," says tech crew member Ava Lundquist. "I've also enjoyed all the new people I've met in theater, and working backstage with them."
A lot of preparation goes into creating the show. On some days, rehearsals lasted until 10 p.m. Actor, Mila New, playing the role of Martha Watson, explains, "We had a few problems during tech week, and many people lost focus because of the stress caused by finals week. But after all the times we've run the show, and perfected every scene, we all have more confidence in the amazing show we've worked hard to create." Sam Hauser, trombone player from the pit orchestra admits that, although the show has long rehearsals, it wouldn't be as good without the hard work and extra practice everyone has put in.
"It was a lot of fun to create," proclaims Emily Josephson. "You can come support your friends, as well as Eagan's theater department," she says. "It's crazy fun, the students are all extremely talented and you'll have a great time," director of the show, Josh Campbell enthused. Mila New explains, "regardless of the holiday, coming to see this show is going to make you happy and put you in a good mood. This holiday musical let's you have a break from any of the stress in your life, and you can sit back, and enjoy a hilarious, and incredible show."
Leave a Comment
About the Contributor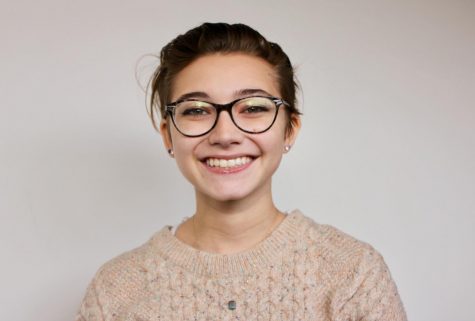 Tori Westenberg, News Editor
Senior Tori Westenberg loves giraffes and LGBT+ fiction. She wants to be a journalist when she's older, and if she could go anywhere in the world, she...