Restaurant Review: Bonchon
Sana Tahir, Features Writer
September 21, 2021|103 Views
Eagan has welcomed a new fast-food chain to the city, Bonchon! Located in the Eagan Town Centre, Bonchon is reaching its 10 month anniversary. Famous for their Korean fried chicken, Bonchon has a wide menu spanning from traditional Korean food to wings. Driving past it so often, I decided to try it out!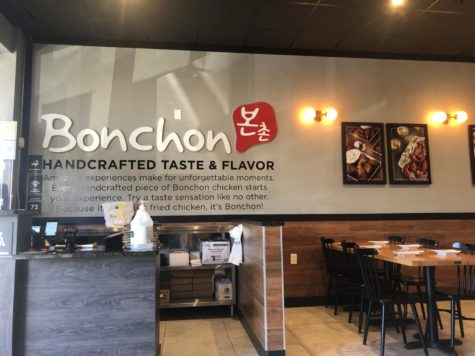 Walking in, I immediately saw how much seating they had. The place was busy when I arrived, but the restaurant itself is pretty big so it did not feel crowded. The restaurant had a nice feel to it and I loved the black interior. They had tables in the middle of the restaurant and booths lining the sides. I was surprised by the fact that it was a sit-down restaurant as Bonchon was stated to be fast food. However, the staff was very friendly and overall seemed energetic and polite.
I decided to order their famous fried chicken strips with a side of coleslaw and plain house fried rice. All the fried chicken came with a side of either pickled radish or coleslaw and a choice of soy garlic, spicy, plain, or half and half sauce. The rice came with an option of meat, seafood, or plain, and you were asked if you wanted certain things to be put on the rice. Their menu had so many options, ranging from octopus to ribeye to vegetarian options. As a lot of the menu was traditional Korean food, I had to read the ingredients to know what each food was. My food was given to me pretty fast, almost 10 minutes after ordering. I immediately noticed how big the serving sizes were. I had ordered a size small for my chicken strips and had received 10 strips. My fried rice was also way bigger than I had expected and both things were a lot for 1 person. I had ordered a spicy sauce to go with the chicken and was a little disappointed with how small it was. For the number of strips they give, I would recommend Bonchon to give more sauce. However, the food itself was amazing! The fried rice was filled with flavor even though I got plain and it tasted very fresh. The chicken was crispy and the coating they had put on the chicken tasted so flavorful. I couldn't pinpoint what the exact coating was as it was labeled as their "secret ingredients" but it all worked so well together! I definitely underestimated how spicy the sauce would be, so I would recommend trying it only if you have a good spice tolerance! This was my first experience with Korean food and I have to say that I'm a fan now!
Overall, the restaurant was vibrant and clean; the staff was very friendly, and the food was amazing! I would recommend giving Bonchon a visit!