Novack and Zats Will Represent EHS at Camp Enterprise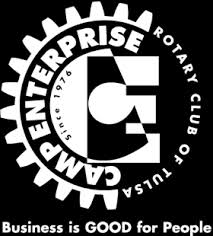 Two students from Eagan, Tess Novack and Lucia Zats, will be attending Camp Enterprise November 6th through the 8th. The camp is designed to teach students leadership qualities through examining the free enterprise system.
During their three days at the camp, they will be meeting and speaking with real-word business leaders, listening to inspirational speakers, working on teamwork skills, playing team games and much more.
EHS first began participating in the camp after Eagan's former principal, Tom Wilson, encouraged us to join. Each year, Junior and Senior students have the option to fill out an application; the counselors then chose two students to attend the camp.
"
It's all about business and business enterprise"
— Tom Wilson
Wilson elaborates on one of the activities the kids will be doing, "They put kids into simulations to see if they can problem solve how to make a corporation work. It's all about business and business enterprise." He explains further saying, "They're going to learn things all about the business world that they've never heard before"
The camp will be a chance to show students what it's really like out in the business world. Wilson likes the camp a lot for this reason specifically, "I want to expose kids to every opportunity that's out there because they're 16 or 17 or 18 and they don't really know what they want to do. They don't even know what their choices are. I like exposing them to opportunities."
Novack shares she's looking forward to "Getting to meet a lot of new people and learning leadership qualities that I may not have." 100 juniors and seniors throughout Minnesota and Wisconsin will be attending the camp, making it the perfect opportunity to meet new people.
Besides meeting to people, Novack feels this will be a great chance to work on leadership skills, "I want to learn that you can always get better at being a leader. You can start somewhere but you never can finish."