Quilt Exhibit Comes to an End
The Last Stitch, EHS's 20th annual quilt exhibit, took place in the library from March 2nd-19th. The idea behind the exhibit is to recognize and honor women's roles in history. During this event, viewers saw the beauty, delicacy, and cultural preservation embedded in over 80 quilts from 9:00AM to 3:00PM.
These exquisite quilts were fashioned by District 196 quilters, community quilt groups, and private collectors. The featured quilts for 2015 were designed by storyteller Jewell Wolk and were presented by Wolk's daughter, Jean Wakely of Northfield, Minnesota.

Photo courtesy of www.storyquiltproject.com
Wolk's life began in Montana where she grew up and fell in love with women's history. It was in Montanna where she noticed history novels were written about men by men. Wolk knew women's stories were just as influential as men's and desired for a way to share them with the world. In no time, Wolk underwent quilt fabricating in order to apprise society of women's vibrant tales.
Each quilt she devised started with 1-3 years of research to evolve the quilts overriding message. After scrutinizing and determining the pivotal message a particular quilt was going to reveal, Wolk sketched the scenes and divided them into smaller sections. Wolk even invented her own technique called "appli-j." It entailed sowing black thread around objects to generate a feeling of dimension and visual uniquness.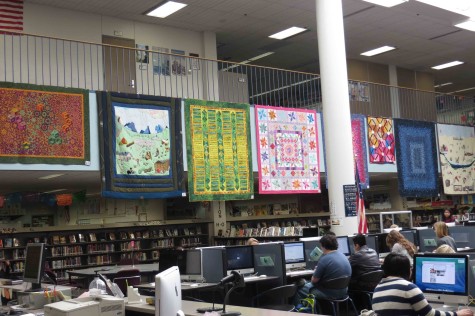 Vivian Phan
Overall, nine quilts were made over the expanse of twenty years. Today, Wolk's artistic pieces are renowned, celebrated, and enjoyed by individuals from all walks of life.
EHS displayed Wolk's quilts in hopes of raising awareness for the Jewell Wolk Story Quilt Project, a group created by Jane Wakely with the purpose of showcasing her mother's intricate creations. Wolk's legacy will flourish forever through all who come to dazzle upon the masterpieces only a true artist could create.