Play for Patrick Foundation Offers Heart Screenings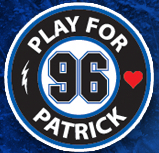 Just recently, in memory of Patrick Schoonover, the Play for Patrick Foundation was founded as a way for Patrick's legacy to continue. The foundation now provides heart screenings to students in the community.
Last year, Patrick Schoonover, a hockey player at Eastview High School, was playing on the field when he collapsed on the ice due to undetected heart defects, causing his early death.
Patrick's heart condition was never found during medical exams or physicals, and his family is now working with the University of Minnesota Physicians Heart Clinics to educate and inform other families about heart defects and to make heart screenings more easily affordable. They hope to reduce sudden deaths caused by these heart conditions by knowing more about them. With support from the University of Minnesota Physicians Heart Clinics, the Play for Patrick foundation informs of heart defects to help save lives.
The foundation has taken on the job of heart screenings and does it well. The first heart screening was a tremendous success, according to Dr. Kim, a worker at the foundation. Many abnormalities were found during the screening, identifying the causes of certain symptoms and providing some assurance to families.
Similar to the first, the Halloween heart screening was a success as well. Because of the early detection and treatment, kids have a better chance of doing well and not facing any long-term negative consequences of heart problems. The next scheduled heart screening is on January 16 at the Apple Valley Community Center.
The Patrick Schoonover Heart Foundation is run by volunteers and donations, allowing almost anyone to help. Financial donations are accepted in any amount to support heart screenings and medical training devices. The foundation provides not only valuable heart health information, but also the enthusiasm of volunteerism and community spirit.