EHS Welcomes New Student Teacher
The new school year brings forth an array of unique individuals and experiences. Each September, Eagan High School receives a wave of incoming freshmen, teachers, exchange students, and of course, student teachers.
This trimester, EHS has only one student teacher — Mr. Johnson. He will be working alongside Mr. Becker of the social studies department.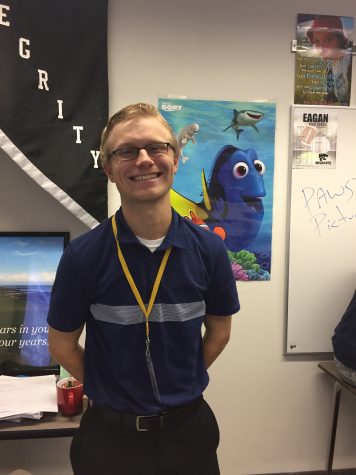 He explains, "As a student teacher, I assist (with) and prepare lesson plans, and teach lessons. I do a lot of what Mr. Becker does and we work together to make sure we figure out the best needs for the students."
As a student teacher, Mr. Johnson helps ensure that Mr. Becker's classes run smoothly, focusing primarily on the ninth graders. However, he'll soon assist with the twelfth grade economics classes. He previously had placements in other locations, where he would stay for a few hours per day. EHS is his first time student teaching.
Mr. Johnson says about EHS, "I like the community vibe that I get here; it's a really great place to learn. The open classrooms are interesting. I haven't seen that before, but I just love the community vibe that there is. Everybody seems to be together to learn."
Have a good trimester, Mr. Johnson. Eagan welcomes you.